Mikati calls his appointment: Victory of consensus over difference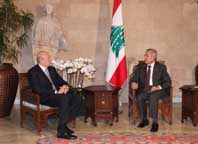 Following his appointment by president Michel Suleiman on Tuesday as prime minister-designate to succeed caretaker PM Saad Hariri, MP Najib Mikati talked to the reporters at Baabda palace
"The president informed me of the outcome of his consultations with parliamentarians, which have resulted in my appointment as prime minister," he said
"I will cooperate fully with all Lebanese to form a new government that protects the unity and sovereignty of our country," he added.
Mikati's probable appointment has sparked widespread anger within the Muslim Sunni community. It is seen as a bid by the Iranian- and Syrian-backed Hezbollah to undermine the Sunnis and sideline Hariri, their most popular leader in Lebanon, and essentially take control of the government.
But Mikati, a political moderate with good relations with Syria, has said he was a centrist and emphasized that he intended to include all parties as he forms a government.
"This does not signal the victory of one camp over another," Mikati said. "This is the victory of consensus over difference.
"Nothing justifies the refusal of any political party to participate" in the next government, he added. "My hand is extended to all Lebanese."
Mikati received the backing of 68 lawmakers, a majority in the 128-seat assembly, to 60 for caretaker premier Saad Hariri.
Caretaker PM Saad Hariri said yesterday that the Future Movement will refuse to participate in any government headed by the candidate of the Hezbollah-led March 8alliance
He also said "that all the talk of ( Mikati being ) a compromise candidate is an attempt to throw dust in the eyes…. there is no such thing as consensus candidate"
Lebanese president Michel Suleiman will reportedly refuse to sign off on any one color cabinet that is not a national unity government , according to presidential sources, but Speaker Nabih Berri, Hezbollah Shiite key ally revealed that Mikati once officially designated will form a national salvation government instead of a national unity government, after the announcement of the Future Movement and the March 14 that they will refuse to join any government that is not headed by Hariri .