Hamadeh: Mikati should not fall in Hezbollah trap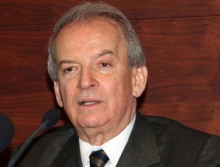 Democratic Gathering bloc MP Marwan Hamadeh said on Tuesday that "Prime Minister designate Najib Mikati should not fall in the trap that was set up for him" by the March 8 coalition, in reference to Hezbollah and its allies.
,
Hamadeh who refused to back MP Walid Jumblatt the former leader of the Democratic Gathering in supporting Hezbollah's PM nominee , was quoted as saying that "March 14 supporters will maintain their struggle and the Cedar Revolution."
Hamadeh was one of 4 Democratic Gathering MPS who decided to vote for caretaker PM Saad Hariri during the consultations.
Following the consultation meeting Jumblatt , announced that he and the 6 MPs that accompanied him voted for Mikati, he also announced the end of the Democratic Gathering bloc and the formation of the "National Struggle Front" to replace it.
Hamadeh miraculously survived an assassination attempt by the Syrians in 2004 over the drafting of UN resolution 1559. Hezbollah reportedly was involved in the logistics of the attempted murder.
Earlier today March 14 issued a statement calling on the Lebanese people to gather at 6:00 p.m. at Beirut's Martyrs Square on Tuesday to defend the country "against the terror of armed parties ," a reference to Hezbollah.
Protests continue to rock Lebanon. Thousands of angry protesters burned tires and blocked roads across Lebanon on Tuesday after Iranian and Syrian-backed Hezbollah secured the appointment of its candidate to lead the next government.
The protests were part of a "day of anger" called by supporters of Hariri to protest against Hezbollah which is funded and supported by Tehran.