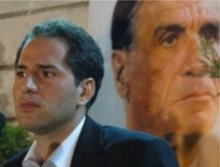 Phalange party MP Sami Gemayel will be holding a press conference Wednesday at 1:00 p.m. to address the latest developments, according to a statement issued by his press office.
Earlier today, Sami's cousin Phalange party MP Nadim Gemayel urged all the Lebanese people to take part in the March 14 alliance protests on Tuesday evening, saying that the gathering will take place to "reject Hezbollah's coup against the Lebanese government," according to a statement issued by his office.
Protests continue to rock Lebanon. Thousands of angry protesters burned tires and blocked roads across Lebanon on Tuesday after Iranian and Syrian-backed Hezbollah secured the appointment of its candidate to lead the next government.
The protests were part of a "day of anger" called by supporters of Hariri to protest against Hezbollah which is funded and supported by Tehran.
The biggest protest took place in Mikati's hometown, the northern city of Tripoli where medical sources said 20 people were treated for injuries and protesters set fire to a satellite truck used by the Qatar based television channel Al Jazeera.
The nomination of Najib Mikati as prime minister, endorsed by President Michel Suleiman, is seen a victory for Hezbollah, which secured the parliamentary votes needed to wrest control of the Lebanese government.
Caretaker PM Saad Hariri said yesterday that the Future Movement will refuse to participate in any government headed by the candidate of the Hezbollah-led March 8alliance
He also said "that all the talk of ( Mikati being ) a compromise candidate is an attempt to throw dust in the eyes…. there is no such thing as consensus candidate"
Lebanese president Michel Suleiman will reportedly refuse to sign off on any one color cabinet that is not a national unity government , according to presidential sources, but Speaker Nabih Berri, Hezbollah Shiite key ally revealed that Mikati once officially designated will form a national salvation government instead of a national unity government, after the announcement of the Future Movement and the March 14 that they will refuse to join any government that is not headed by Hariri .