Muftis council in Lebanon urge Mikati not to fall in Hezbollah trap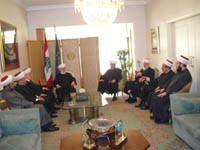 The Muftis council in Lebanon, headed by Grand Mufti Mohammad Rashid Qabbani visited on Tuesday Prime Minister-designate Najib Mikati and urged him not to fall in the trap og conspiracy devised against the Lebanese, in reference to what March 14 branded as a 'Hezbollah coup' .
"We call on him to take the appropriate stand that would avert strife and prevent Lebanon from falling into chaos and the trap of the conspiracy being devised against the Lebanese, and Muslims in particular." The said in a statement after meeting with Mikati at his office in Beirut.
Similarly Democratic Gathering bloc MP Marwan Hamadeh said on Tuesday that "Prime Minister designate Najib Mikati should not fall in the trap that was set up for him" by the March 8 coalition, in reference to Hezbollah and its allies.
Earlier today March 14 issued a statement calling on the Lebanese people to gather at 6:00 p.m. at Beirut's Martyrs Square on Tuesday to defend the country "against the terror of armed parties ," a reference to Hezbollah.
Protests continue to rock Lebanon. Thousands of angry protesters burned tires and blocked roads across Lebanon on Tuesday after Iranian and Syrian-backed Hezbollah secured the appointment of its candidate to lead the next government.
The protests were part of a "day of anger" called by supporters of Hariri to protest against Hezbollah which is funded and supported by Tehran