Tuesday is Lebanon 'day of rage' against Hezbollah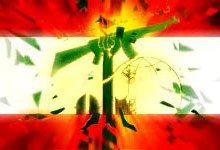 March 14 lawmakers have called for a "day of rage" throughout Lebanon Tuesday to protest gains by the Iranian and Syrian-backed Shiite militant group Hezbollah.
In a news conference, lawmaker Moustafa Alloush called for protests to voice refusal for "Persian tutelage" over Lebanon — a reference to Hezbollah's patrons in Iran.
He said the protests should be peaceful.
Hezbollah appears to have secured the support from a majority of parliament Monday to nominate its candidate for prime minister former PM Najib Mikati putting the Shiite group in position to control Lebanon's new government.
Hezbollah and its allies has the support of 57 seats , gained seven more from the bloc of MP Walid Jumblatt and with Mikati's vote, Hezbollah reached 65 . The voting in the 128 member parliament on a new candidate for prime minister was to continue on Tuesday.
Hezbollah toppled the government of Prime Minister Saad Hariri, a Sunni, on Jan. 12 after Hariri refused the group's demand to cease cooperation with a U.N.-backed tribunal investigating the 2005 assassination of his father, former Prime Minister Rafik Hariri.
The tribunal is widely expected to indict Hezbollah members in the assassination, something that has raised fears of renewed violence in Lebanon
Hezbollah's opponents say a government led by the militant group would be disastrous for Lebanon and lead to international isolation.
A Hezbollah-led government is widely expected to raise tensions with Israel, which fought a 34-day war against Hezbollah in 2006 that left over 1,200 Lebanese dead, mostly civilians.
Lebanese Forces leader Samir Geagea warned during a press conference on Saturday that if the Hezbollah-led March 8 alliance assumes power it will turn Lebanon into another Gaza , the economy will be devastated and freedoms will be repressed.