Decision to nominate Mikati was "Made in Syria", report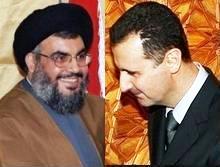 The Syrian leadership reportedly informed the envoys of Hezbollah and Amal of its decision to nominate Mikati Saturday night, according to local reports .
MTV reported last Saturday that Hussein Khalil, Hezbollah Secretary General Sayyed Hassan Nasrallah's political aide and MP Ali Hassan Khalil , Amal Movement leader Nabih Berri's political aide headed to Damascus , Syria secretly Saturday afternoon to meet with the country's officials.
According to reports the Hezbollah led opposition had requested former PM Najib Mikati to agree to implement a five-point plan before agreeing to Syria's decision to name him as their premiership candidate
The five point plan calls for:
1- Withdrawing the cooperation protocol between Lebanon and the Special Tribunal for Lebanon STL) .
2- Withdrawing the Lebanese judges from the STL
3- Halting the funding of the tribunal
4- Referring the false witnesses file to the Lebanese judiciary council
5- Bolstering Lebanese-Syrian ties