Jumblatt votes for Mikati, disbands his DG bloc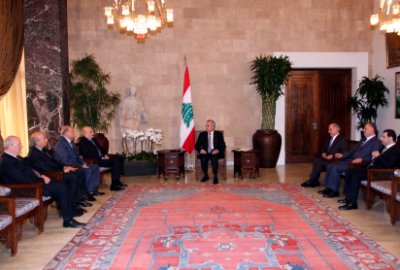 Democratic Gathering bloc leader MP Walid Jumblatt, along with six of his bloc's MPs, arrived at the Baabda Presidential Palace Monday to take part in the consultations on the premiership nomination.
The following MPs accompanied Jumblatt :
Ghazi Aridi, Akram Chehayeb, Wael Abu Faour, Alaaeddine Terro, Elie Aoun and Nehmeh Tohmeh.
Jumblatt, a former ally of March 14 who holds 11 seats in the parliament, said last Friday that he his party MPs within his bloc will side with Hezbollah.
Following the consultation meeting Jumblatt , announced that he and the 6 MPs that accompanied him voted for Najib Mikati, Lebanon's former PM to lead the new government he also announced the end of the Democratic Gathering bloc and the formation of the National Struggle Front to replace it.
The Billionaire businessman Mikati was poised on Monday to become Lebanon's next prime minister after winning the backing of Hezbollah, in a move denounced by caretaker PM Saad Hariri.
"It's Mikati for sure," Jumblatt told reporters as consultations on appointing a new premier got underway at the presidential palace.
The 55-year-old Mikati, who served briefly as premier in 2005 and is close to Syria, said after meeting with President Michel Suleiman that should he be appointed he would act as a consensual candidate representing all parties.
"I extend my hand to everyone," he told reporters. "If I am appointed, my actions will speak for themselves."