Hariri refuses to serve under Hezbollah named PM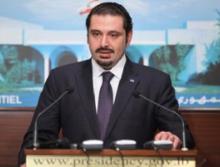 Lebanese Prime Minister Saad al-Hariri refused to serve in a new coalition led by a nominee of Hezbollah as parties began negotiations on Monday to form a government in which the Shi'ite group now has the upper hand.
Lebanon was plunged into political crisis after Hezbollah and its allies walked out of Hariri's unity government on January 12 in a dispute over still confidential indictments by a U.N.-backed tribunal which is investigating the 2005 killing of statesman Rafik al-Hariri, the premier's father.
Hariri has stayed on in the interim and hoped to form a new coalition. But a switch in allegiances by Druze leader Walid Jumblatt has made it more likely that a Hezbollah-backed prime minister would be able to command a majority in parliament.
Hariri, a Sunni Muslim who has support from the United States and Saudi Arabia, said his supporters would not serve under a premier chosen by the Iranian-backed Shi'ite group.
"The Future Movement … rejects taking part in any government headed by a March 8 candidate," his office said in a statement on Monday. The March 8 bloc includes Shi'ite movements Hezbollah and Amal, along with Christian leader Michel Aoun.
Hezbollah leader Sayyed Hassan Nasrallah has offered to accept any group within a cabinet led by Najib Mikati, a Sunni businessman and politician, whose name has been floated by the March 8 block as prime minister — a post reserved under Lebanon's constitution for a member of the Sunni community.
Jumblatt offered his clear backing to Mikati on Monday, the first of two-days of negotiations on a new government.
The collapse of Hariri's government and political deadlock since then has deepened sectarian divisions in Lebanon and the prospect of a government formed by Hezbollah will alarm Israel, which fought month-long war with the militant group in 2006.
Regional powers Saudi Arabia, Syria, Qatar and Turkey have failed to convince Lebanese leaders to agree to a compromise, and Hezbollah and its allies say no amount of international pressure would force them to accept Hariri's leadership again.
INDICTMENTS
The tension has pushed up the cost of insuring Lebanon's debt against restructuring or default to an 18-month high of 367 points. But Lebanese stocks rallied on Monday, rising 2.0 percent, led by gains in real estate firm Solidere which has led the reconstruction of Beirut since Lebanon's 1975-90 civil war.
The indictments at the heart of the latest dispute between Hezbollah and Hariri were filed secretly this month at a U.N.-backed court in The Hague. They are expected to accuse members of Hezbollah, which denies any role in the killing and says the tribunal is serving U.S. and Israeli interests.
Politicians allied to Hezbollah have said the first priority of a government they form would be to cut links with the court.
After meeting President Michel Suleiman on Monday, Mikati said that he would reach out to all parties in Lebanon if he were chosen. "I tell Prime Minister Saad al-Hariri, we are all one hand for the sake of Lebanon," he told reporters.
Mikati served as caretaker prime minister in April 2005, when an outcry over Rafik Hariri's death forced Syria to withdraw its troops from Lebanon. He served for three months until an election, which Saad Hariri's coalition won on the back of an electoral pact with Shi'ite groups Hezbollah and Amal.
Backing from Druze leader Jumblatt, once a staunch supporter of Hariri, will give Hezbollah and its allies, who have 57 seats in parliament, a likely majority for their choice.
Hariri's "March 14" coalition, which included Jumblatt, won a majority in the 128-seat assembly in a 2009 election.
In Lebanon's power-sharing political system, the post of prime minister is reserved for a Sunni, the president a Maronite Christian and the speaker of parliament a Shi'ite.
Analysts say excluding Hariri from government would cause resentment in Lebanon's Sunni population, who see him as their main leader, and possibly spark violence. Another threat could come from violent Sunni factions, close to al Qaeda's thinking, who see Hezbollah as an arm of Shi'ite Iran.