Gemayel: Hariri is the most competent to lead the next government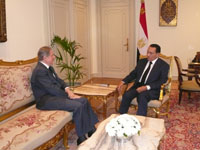 Former Lebanese president and current Phalange Party leader Amin Gemayel said on Sunday
following his meeting with Arab League Secretary General Amr Moussa in Egypt that caretaker Prime Minister Saad Hariri is the most competent figure to head Lebanon's government and told the media that his party supports Hariri remaining in his post.
Gemayel pointed out that Hariri represents "the most important parliamentary bloc and the most important Sunni bloc."
"We have not yet achieved all the goals of the Cedar Revolution to serve Lebanon, which is why we support Hariri at this point." He said
Gemayel revealed that "pressure is being exerted on MPs to prevent them from supporting Hariri ," adding that there are "quasi-military moves taking place," a reference to the Tuesday mobilization of March 8 coalition supporters in Beirut.
On his part Moussa warned that "Lebanon's stability is in danger," adding that "we must take care of Lebanon regardless of any other consideration."
"We care about Lebanon's stability… the next step is that of premiership nomination on Monday , after which, we will take necessary steps." Moussa said
Gemayel who is on an official visit to Egypt also met president Mubarak and other key Egyptian officials
Hezbollah reportedly is exerting pressure on the Tripoli MPs to support its candidate for the premiership.
Hezbollah also reportedly exerted a lot of pressure on MP Walid Jumblatt to force him to side with their premiership candidate according to National Liberal Party leader MP Dori Chamoun who was elected on MP Walid Jumblatt's list during the last election.
"A lot of pressure was exerted on Jumblatt by the Hezbollah led opposition and Syria", Chamoun said during a press conference on Friday.
In an address to the Lebanese people Hariri said he decided to maintain his candidacy for premiership and accused the Iranian backed Hezbollah led opposition of trying to kick him out of political life.
Lebanon's Western-backed government collapsed Jan. 12 after Hezbollah and its allies resigned from the Cabinet in a dispute over a U.N. backed court investigating the 2005 assassination of former Lebanese Prime Minister Rafik Hariri, father of current caretaker PM Saad Hariri.
The court, Special Tribunal for Lebanon ( STL) which is widely expected to accuse the Shiite Hezbollah militant group, filed a sealed draft indictment Monday, touching off a process many fear could ignite new bloodshed nearly six years after the massive truck bombing along Beirut's waterfront that killed Hariri.