Jumblatt met Hezbollah chief late Friday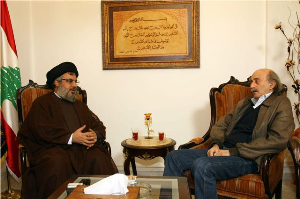 OTV reported that Hezbullah Secretary-General Sayyed Hassan Nasrallah held talks with PSP leader MP Walid Jumblatt late Friday night in an undisclosed location to discuss the latest developments.
The meeting comes after the Progressive Socialist party leader held a press conference on Friday afternoon to officially announce that he and his PSP party will back the resistance ( Hezbollah) and Syria during the parliamentary consultations for selecting a Prime minster designate to lead the next government .
Jumblatt , whose father was killed by the Syrians and whose friend MP Marawan Hamade miraculously survived an assassination attempt by the Syrians, will be able to deliver 4-5 votes for the candidate of the Iranian and Syrian backed Hezbollah led opposition according to local reports
According to Ya Libnan correspondent in the Shouf area this switch of position by Jumblatt will cost him dearly and amounts to a political suicide. Several members of his parliamentary bloc are elected in Sunni-majority districts and around 30 percent of the electorate in the Chouf is Sunni.