Chamoun: Jumblatt talked as PSP chief, not as a bloc leader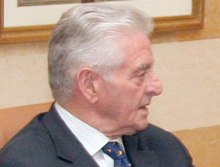 National Liberal Party leader MP Dori Chamoun who was elected on MP Walid Jumblatt's list during the last election commented during a press conference on Jumblatt's Friday press conference and said : Jumblatt did not talk today as the leader of a parliamentary bloc , but as the Progressive Socialist party chief .
He said a lot of pressure was exerted on Jumblatt by the Hezbollah led opposition and Syria and denied that the other members of his Democratic Gathering bloc share Jumblatt's opinion. He added: The absence of some members of his bloc proves that the bloc does not have a unified stance .
Jumblatt held a press conference on Friday afternoon to officially announce that he and his PSP party will back the resistance ( Hezbollah) and Syria during the parliamentary consultations for selecting a Prime Minster designate to lead the next government .
OTV reported that 5 members of MP Walid Jumblatt's Democratic Gathering parliamentary bloc met at the office of MP Marwan Hamade , prior to the expanded meeting of the bloc and they all decided not to support Jumblatt in his backing of Hezbollah premiership candidate .
Chamoun who refused to talk about the makeup of the future government warned the Hezbollah-led opposition against resorting to the street in order to impose its opinion on the rest of the Lebanese, and denied that there are intentions by March 14 to escalate the tension.
Chamoun talked about the 2008 uprising when Hezbollah-led opposition occupied west beirut and tried but failed to occupy Mt Lebanon and asked : "Is such a group qualified to govern the country ? " He added I will hold March 8 responsible for any move aimed at undermining security and internal stability.
Chamoun predicted that March 8 will not receive any international support in the event it succeeds in forming the next government and specially if it tries to abolish the Special Tribunal for Lebanon (STL) and warned that a March 8 led government could spell disaster for Lebanon both politically and economically .
Commenting on the failed Saudi- Syrian initiative , he said this was born dead since there are clear differences between Riyadh and Damascus as far as STL is concerned .
.