Almost 99% of south Sudanese vote to secede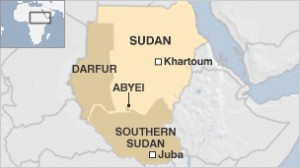 WITH MOST of the votes counted, almost 99 per cent of southern Sudanese who voted in last week's independence referendum have chosen to split from the north.
According to the Southern Sudan Referendum Commission, 98.6 % of the 3.2 million people who voted chose secession, with more than 80 per cent of the votes in the south counted. Just 1.4 per cent chose unity. The commission had earlier confirmed that the turnout exceeded the 60 per cent required for a valid result.
"The result was the one that was expected," Bona Malwal Madut, veteran Sudanese politician and adviser to northern Sudan's president Omer al-Bashir said, adding that Khartoum would respect the result as promised under the 2005 peace agreement between both sides.
"If Khartoum was harbouring any ill intentions, they had all the opportunity and the leverage to wriggle out of this agreement a long time ago, but they haven't done so. I think that is an indication that the president wants to honour the agreement and develop mutual relations with its neighbour," he said.
The referendum commission warned that the results may be subject to change. "These are incomplete and provisional pending the declaration of preliminary and final results" it said.
Final figures are not expected until mid-February, when the results from the south's 10 states have all been collated and added to votes from southerners living in northern Sudan and in eight countries worldwide. If the result is confirmed, south Sudan is set to formally declare its independence on July 9th, making it Africa's 55th state.
In voting across the south's 10 states, the largest state Jonglei gave the biggest backing for independence – with 99.93 per cent of people choosing secession. The first results from the state of Western Equitoria also showed enormous support for a split, with 99.5 per cent of voters opting to break up Africa's biggest country.
Only the northern Sudanese state of South Darfur showed a majority in favour of unity, which the referendum commission put down to northerners falsely claiming that they were southerners and therefore entitled to vote.
The referendum was the key part of a 2005 peace deal between the Khartoum government and southern rebels. It ended a 22-year civil war between the mainly Muslim, Arab north and Christian south, which claimed two million lives.
A vote for independence will give the south control over almost 80 per cent of Sudan's oil production of 490,000 barrels per day. However, agreement still has to be reached on sharing oil revenues. At present supplies can only be exported through a pipeline that runs through the north. South Sudan depends on oil for 98 per cent of its revenues.
Other outstanding issues include the final demarcation of the border between north and south, responsibility for foreign debt and the future status of the disputed region of Abyei, where violence last week threatened to mar an otherwise peaceful referendum. Irish Times