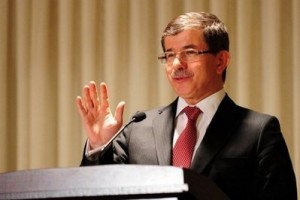 Turkey's involvement in attempts to resolve two of the Middle East's toughest diplomatic disputes this week has underscored its emergence as a key player in the region, after decades spent on the sidelines.
On Friday, diplomats from the major world powers began talks in Istanbul on Iran's nuclear program aimed at unblocking a years-long stalemate over whether Tehran should suspend production of nuclear fuel, a process that can be used to make nuclear weapons as well as civilian-grade fuel.
Their host, Turkey's Foreign Minister Ahmet Davutoglu, had arrived for bilateral talks with some of the players Thursday on a 4 a.m. flight, after spending 48 hours in round-the-clock negotiations to prevent a potential conflict in Lebanon.
Mr. Davutoglu's deep involvement in helping to mediate the Lebanon crisis, and the choice of Istanbul to host the Iran talks, show how Turkey has emerged as a significant player in the Middle East—perhaps the only country in the region able to speak easily to Sunnis and Shiites, Hezbollah and Washington alike, diplomats and analysts say.
That is a dramatic change for Turkey, which had long isolated itself from the Arab world, the fruit of a booming economy in search of a stable neighborhood.
Yet this week's events also underscored the limits of Turkish influence. Mr. Davutoglu didn't get a seat at the table as the U.S., U.K., Russia, China, France, Germany and Iran launched into talks Friday. His role as host rather than participant, as well as the uncertain outlook for success in Lebanon, show the limits of Turkish influence in a region littered with the debris of failed mediation efforts, analysts say.
Iran refused on Friday to discuss suspension of its nuclear fuel program and set tough conditions for any new talks, giving little sign of progress. The negotiations were due to resume Saturday.
Asked whether hosting the Iran negotiations wasn't a poisoned chalice—with little hope for success but a risk it could deepen suspicions in the U.S. Congress about Turkey's engagement with Tehran—Mr. Davutoglu said Turkey's involvement wasn't a matter of choice.
"Our interest in this issue is not a luxury," said Mr. Davutoglu, speaking at his hotel suite away from the talks. As Iran's neighbor, Turkey would be the first country hit by "nuclear escalation in the region, or tension between the West and Iran, or sanctions against Iran."
Mr. Davutoglu has become a fixture in crises around the Middle East in recent years. While in Lebanon this week, he got a fresh endorsement that, in the terms of the region, signified Turkey's ascent as a power player: an invitation to meet with Hezbollah's sequestered leader, Seyed Hassan Nasrallah.
Meetings with Mr. Nasrallah, a bitter foe of Israel and the U.S., are usually reserved for Hezbollah's most loyal allies and influential leaders from the region.
"We will speak to anyone. It isn't a zero-sum game," said Mr. Davutoglu. "There cannot be an Iraq, or a Lebanon, where Sunnis or Shiites, or in some cases Christians, will win and others lose."
Lebanon's government collapsed last week after opposition ministers led by Hezbollah resigned over Prime Minister Saad Hariri's refusal to denounce a U.N.-backed international tribunal court's investigation of the 2005 assassination of his father, then-Prime Minister Rafik Hariri. With the United States taking a back seat and Saudi Arabia withdrawing after a failed attempt to mediate, Turkey joined Qatar to fill the vacuum.
Mr. Davutoglu said that before his early morning flight to Istanbul he and his Qatari counterpart left behind a draft proposal to end the crisis, and it was now up to the Lebanese to decide what to do next. He denied reports that he was pulling out of the attempt to mediate. He also declined to discuss the contents of the draft.
Turkey's success maintaining a secular democracy in a Muslim-majority country, as well as its rapid economic growth, are sources of envy among educated middle-class Arabs, analysts say. Meanwhile, Turkey's Prime Minister Recep Tayyip Erdogan has turned into something of a political rock star in the region after adopting a tough stance against former ally Israel.
"It's a very sophisticated and unique role that Turkey is playing, because it talks to everybody," said Rami Khouri, a political analyst and director of the Issam Fares Institute for Public Policy and International Affairs in Beirut. "I think most Arab countries are starting to look up to Turkey."
Still, some analysts are skeptical that Turkey has risen to the level of influencing outcomes in the Middle East, as opposed to working as a mediator. "This is an Arab land. The key countries in the Middle East will not allow Turkey to steal the limelight and become the kingmaker of the Middle East," said Timor Goksel, a Turkish political analyst living in Beirut.
Turkish officials themselves stress that the country's policies have costs as well as benefits. Engaging with Iran created tensions with some Arab governments, said one senior Turkish diplomat. Meantime, Ankara has effectively disqualified itself from mediating any further talks with Israel.
"I'm not sure the Iranians are doing the Turks any favors," said Henri Barkey, Turkey expert at the Center for Strategic and International Studies. He said the benefits for Ankara in hosting the Iran talks could pale next to the risks of triggering a permanent rupture with Washington, an alliance he says remains the foundation of Turkish credibility in Middle East diplomacy.
Mr. Davutoglu, however, said he wasn't concerned. "No one should think Turkey's own way is an alternative to the American way," he said. "Ours is the same way," only with different tactics. WSJ