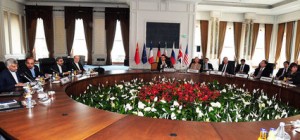 Talks meant to nudge Iran toward meeting U.N. Security Council demands to stop uranium enrichment collapsed Saturday, with Tehran shrugging off calls by six world powers to cease the activity that could be harnessed to make nuclear weapons.
Announcing the failure of two days of negotiations, EU foreign policy chief Catherine Ashton said no new date for another meeting had been set. She blamed what the six consider unrealistic demands by Iran — an end to U.N. sanctions and agreement that Iran can continue to enrich — for the disappointing results.
Proposals by the six for improved U.N. monitoring of Iran's nuclear activities were rejected by Tehran, as were attempts to kickstart dialogue by reviving discussions on Iran's shipping out a limited amount of its enriched uranium in exchange for fuel for its research reactor, Ashton said.
"We had hoped to have a detailed and constructive discussion of those ideas," she said. "But it became clear that the Iranian side was not ready for this unless we agree to preconditions related to enrichment and sanctions.
"Both these preconditions are not the way to proceed," she told reporters.
While no new talks were planned, Ashton said "our proposals remain on the table. Our door remains open. Our telephone lines remain open."
Iranian chief negotiator Saeed Jalili in turn suggested the six powers were the ones who had imposed preconditions, saying his negotiating team had gone "far and beyond what was expected of us" to reach agreement and accusing the other side of pushing not "dialogue but dictation."
Tehran denies that it wants nuclear arms, insisting it wants only to provide peaceful nuclear energy for its rising population and noting that the Nuclear Nonproliferation Treaty allows for enrichment as a source of fuel.
But international concerns have grown — because its uranium enrichment program could also make fissile warhead material, because of its nuclear secrecy and also because Iran refuses to cooperate with U.N. investigations of suspicions that it ran experiments related to making nuclear weapons.
A senior U.S. administration official said Iranian negotiators had sought to split the six during "long and difficult" talks to extract concessions, but delegates from the world powers remained unified.
A diplomat from a permanent member nation of the U.N. Security Council — one of the six powers at the talks — said no new U.N. sanctions were planned in response to Iran's defiance. Instead, he said there would be stricter enforcement of existing penalties. Both he and the U.S. official asked for anonymity because their information was confidential.
Tehran has repeatedly said freezing the uranium enrichment program is not up for discussion. Instead, Iranian officials came to the table with an agenda that covered just about everything except its nuclear program: global disarmament, Israel's suspected nuclear arsenal, and Tehran's concerns about U.S. military bases in Iraq and elsewhere.
When talks resumed Saturday, Iranian delegate Abolfazl Zohrevand said the atmosphere was "positive."
"Both sides showed the willingness that a solution can be achieved to reach active cooperation on various issues," he told AP Television News.
With Britain, Germany and China standing by, Ashton said the U.S., Russia and France had talked with Iran on Saturday about reviving an offer to exchange some of Iran's enriched uranium for fuel rods for Tehran's research reactor.
First made in late 2009, that offer involved Iran and those three powers and was supported by all six as a way of reducing Iran's enriched stockpile, thereby potentially delaying its ability to manufacture a nuclear weapon. But the offer lapsed amid Iranian conditions and later the realization by the six powers that it no longer made sense to discuss shipping out the original amount as Iran continued adding to its enriched uranium trove.
Separate from its main enrichment program which is churning out low-enriched uranium, Iran started enriching to 20 percent after the fuel exchange deal was stalled, saying it would use the material to manufacture its own fuel rods for the research reactor.
That heightened international concerns, because it takes much less time to turn 20-percent enriched material into use for weapons than low-enriched uranium. AP