Gemayel: We will confront any coup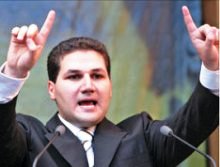 Phalange party MP Nadim Gemayel said on Saturday that March 14 alliance cadres meeting is aimed at declaring that the alliance and its supporters will rise up to face any coup.
"We will reject and rise again against the terrorist system which was imposed on Lebanon until 2005. What is important is who wins at the end, and we will," Gemayel , son of the assassinated Lebanese President Bashir Gemayel told reporters at the March 14 General secretariat headquarters in Ashrafiyeh ( Beirut) where the conference was held .
Also at the conference Dr. Walid Fakhr al-Din read an appeal titled "Appeal to the people of Lebanon," in which he said Lebanon has become a hostage of the weapon bearers ( in reference to Hezbollah) who are threatening the foundations of the republic and changing the character of Lebanon.
He described the actions by the March 8 opposition as a coup and accused Hezbollah of targeting Mt Lebanon in its military threats and said preparations were taken by Hezbollah to take over the "mountain" if caretaker PM Saad Hariri returns as the Lebanon PM .
After stifle parliamentary consultations, the Sunday show of strength veiled threat, invaded the capital Beirut, and is now well known that the "party of God" face a direct military threat and took preparations targeted the mountain, in order to undermine the parliamentary majority made available to the president Saad Hariri undisputed.
Lebanon's Western-backed government collapsed Jan. 12 after Hezbollah and its allies resigned from the Cabinet in a dispute over a U.N. backed court investigating the 2005 assassination of former Lebanese Prime Minister Rafik Hariri, father of current caretaker PM Saad Hariri.
The court, Special Tribunal for Lebanon ( STL) which is widely expected to accuse the Shiite Hezbollah militant group, filed a sealed draft indictment Monday, touching off a process many fear could ignite new bloodshed nearly six years after the massive truck bombing along Beirut's waterfront that killed Hariri.