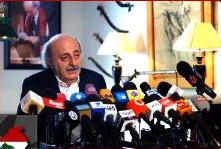 Progressive Socialist party leader MP Walid Jumblatt held a press conference on Friday afternoon to announce his stance over the parliamentary consultations amid conflicting reports about his stance .
He told reporters following a meeting of his parliamentary bloc that he and his party (PSP) have decided to back the resistance ( Hezbollah) and Syria.
During his press conference he said :
"After the Special Tribunal for Lebanon took a turn to become politicized par excellence, it has become a threat to national unity and security. The leaks in Arabic and international newspapers confirmed that it is politicized. And after the tribunal took a turn to become a tool of destruction, it strayed from the path of justice and became a tool of blackmail."
Jumblatt said the The Saudi-Syrian initiative calls against cooperating with the STL and reached an agreement during his meeting with Syrian President Assad to adopt the SS initiative in order to end the political crisis
He said that he hopes the democratic game would take its course as Caretaker PM Saad Hariri stated yesterday , while working on averting strife, but he rejected Hariri's statements over political assassination as no one in Lebanon can eliminate the other. He also rejected the the opposition statements that said that the phase preceding the indictment is not the same as the one after it.
Jumblatt warned that any attempt by one camp to eliminate the other is an impossible adventure.. He also warned against vengeful practices that he said " have been adopted in the past and resulted in catastrophic results."
In an address to the Lebanese people Caretaker Prime Minsiter Saad Hariri said he decided to maintain his candidacy for premiership and accused the Iranian backed Hezbollah led opposition of trying to kick him out of political life.
The Democratic Gathering bloc which is headed by Jumblatt has eleven MPs , including Jumblatt they are:
Transport, Public Works Ghazi Aridi, State minister Wael Abu Faour, Minister of Immigrant Affairs, Akram Chehayeb, MPs Aladdin Terru, Mohammad Hajjar, Elie Aoun, Henry Helou, , Fouad Saad, Marwan Hamadeh, Antoine Saad, Fadi El-Habr, and Nehme Tohme.
The MPs that are PSP members are : Aridi, Abou Faour and Chehayeb
This means that Jumblatt will be able to deliver 4 votes for the opposition candidate Omar Karami if only the party members side with the opposition.