Reaction to Jumblatt's backing of Hezbollah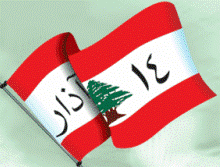 The reaction to MP Walid Jumblatt's announcement that he and his party (PSP) have decided in their meeting to back the resistance ( Hezbollah) and Syria was swift.
MP Ahmed Fatfat , a key member of the Future Movement told OTV:
"We will press ahead in nominating Caretaker PM Saad Hariri to head the new Cabinet. I am sure that some Democratic Gathering MPs are still on our side and they will also vote for Hariri. He added: we are confident that our candidate will succeed in obtaining the majority vote for leading the next government
Mustapha Alloush a Future Movemen official told OTV :The problem is that we didn't know Syria's real position towards vote. We won't take part in a Cabinet headed by Hezbollah because its PM would have been elected by the guns of Hezbollah. Alloush predicted that Jumblatt's democratic gathering bloc will be split and many members will support Hariri
Al-Arabiya TV reported that some of Jumblatt's Democratic Gathering MPs confirmed that nothing is final and matters will be left for Monday when it comes to the vote.
Phalange party MP Elie Marouni said on Friday. "Democratic Gathering bloc leader MP Walid Jumblatt has been pressured to side with March 8."
"Any one-sided cabinet will lead to civil war," Marouni warned
He added: "The Phalange Party and March 14 took the decision to nominate Prime Minister Saad Hariri in the upcoming parliamentary consultations."
Marouni called for dialogue saying it is in " Lebanon's national interest".
Marouni told MTV that the national interest requires the postponement of the parliamentary consultations scheduled for Monday.
"We ask the Lebanese Armed Forces to protect the citizens," Marouni in reference to the reports over possible deployment by Hezbollah members in downtown Beirut and some regions later tonight.
MP Okab Sakr a key member of March 14 alliance said Jumblatt did not name his premiership candidate and said that he will announce his name on Monday. Hezbollah has announced the opposition candidate is former PM Omar Karami .
The Democratic Gathering bloc which is headed by Jumblatt has eleven MPs , including Jumblatt they are:
Transport, Public Works Ghazi Aridi, State minister Wael Abu Faour, Minister of Immigrant Affairs, Akram Chehayeb, MPs Aladdin Terru, Mohammad Hajjar, Elie Aoun, Henry Helou, , Fouad Saad, Marwan Hamadeh, Antoine Saad, Fadi El-Habr, and Nehme Tohme.
The MPs that are PSP members are : Aridi, Abou Faour and Chehayeb
This means that Jumblatt , whose father was killed by the Syrians and whose friend MP Marawan Hamade miraculously survived an assassination attempt by the Syrians, will be able to deliver 4 votes for the candidate of the Iranian and Syrian backed Hezbollah led opposition if only the party members side with him.
According to Ya Libnan correspondent in the Shouf area this switch of position by Jumblatt amounts to a political suicide. Several members of his parliamentary bloc are elected in Sunni-majority districts and around 30 percent of the electorate in the Chouf is Sunni.