Tunisia new government is fractured by resignations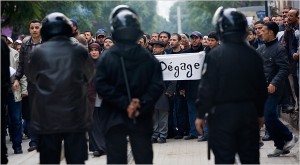 Five or more ministers from opposition parties resigned from Tunisia's unity government on Tuesday, bowing to a wave of street protests against the cabinet's domination by members of the ousted president's ruling party and putting mounting pressure on his prime minister, Mohammed Ghannouchi, to resign as well.
As the leaders of the established opposition parties renounced the unity government, the revolutionary passions unleashed across the region continued to reverberate, as two more men in Egypt set themselves ablaze on Tuesday and a third was stopped before he could do so. Those self-immolations followed six others, all in apparent imitation of the one that set off the Tunisian uprising a month ago.
The new unity government was showing strains practically from the moment it was sworn in on Monday, with new protests focused on its links to the former president, Zine el-Abidine Ben Ali.
In a radio interview on Tuesday, Mr. Ghannouchi insisted that ministers in the new government carried over from the former regime "have clean hands and great competence."
Protesters — previously focused on ousting Mr. Ben Ali — marched on the headquarters of the Progressive Democratic Party, the biggest legal opposition party, demanding that it pull out of the unity government. Inside, party leaders struggled to mollify their members. "You sympathize with the current government," one woman shouted. "How are you supposed to represent the people?"
Elsewhere, protesters focused their anger on the police, in a series of confrontations that left the city littered with tear gas canisters and debris. As hundreds of people marched on Boulevard Bourguiba and in the surrounding streets, police officers surged toward them on motorcycles wielding truncheons and beat several protesters.
In interviews, many of the protesters said they were independents who marched to preserve the ideals of the uprising that caused Mr. Ben Ali to flee the country. Some had come from outside of Tunis to demand deeper change in the government.
"I came because Mohammed Ghannouchi cannot reflect the reality of the revolution," said Zaafourny Adel, a 23-year-old student. Calling himself "anti-Islamist," Mr. Adel said it was important that Islamists, along with Communists and other excluded groups, join any governing slate.
The political turmoil in Tunisia emerged against a backdrop of gruesome protests around the region. On Monday, an Egyptian and a Mauritanian became the fifth and sixth North Africans to burn themselves.
On Tuesday, security officials in Cairo said another man, seemingly inspired by events in Tunisia, set himself on fire outside the prime minister's office in Cairo, while another Egyptian, 25 years old and unemployed, did the same on the roof of his building in Alexandria. The Alexandria man, Ahmed Hashem El Sayyid, died of his burns after being rushed to a hospital in critical condition, security officials said.
Reuters said the man in Cairo was a 40-year-old lawyer named Mohamed Farouk Hassan who shouted slogans against rising prices before setting himself alight. He was hospitalized and his medical condition remains unclear. A third man, a retired government employee, was arrested in front of the Egyptian Parliament carrying two canisters of gasoline with which he was thought to be planning to set himself on fire.
Outside the Parliament building in downtown Cairo on Monday, Abdo Abdel Moneim, a 50-year-old restaurant owner, poured a gallon of gasoline over his head and set himself ablaze.
In Mauritania around the same time, Yacoub Ould Dahoud was setting fire to himself in his parked car near Parliament in Nouakchott.
And on Sunday, Senouci Touat of Mostaganem, Algeria, 34 and unemployed, set himself on fire in his hometown, the fourth attempted self-immolation in his country since the Tunisian street revolt exploded in furious demonstrations in recent days.
In Tunis, the fight was far from over.
Anger over the newly formed unity government has been building. On Monday, more than 1,000 protesters swarmed once again onto the city's main artery, Bourguiba Boulevard, in what they described as an effort to sustain their revolution. They raged against the domination of the new cabinet by members of the ousted president's ruling party. "Citizens and martyrs, the government is still the same," they chanted. "We will protest, we will protest, until the government collapses!"
On Tuesday, Prime Minister Ghannouchi, speaking to the French Europe 1 broadcaster while struggling to convince protesters in the streets that the unity cabinet would oversee a real transition after the bloodshed of the uprising, promised that "all those who initiated this massacre, this carnage, will be brought to justice."
He insisted that the army had not fired live rounds since a state of emergency was declared shortly before Mr. Ben Ali fled into exile in Saudi Arabia on Friday. "My first instruction to the security forces was to not fire on the population," Mr. Ghannouchi said. "You can use tear gas or rubber bullets. It is better to pay with our lives rather than create carnage."
"Today," he said, "there is a new era of liberty, which you can see on the television, in the street, a new spirit completely different from what prevailed in the past."
But he declined to say whether the new government would seek to bring Mr. Ben Ali to trial, deflecting the question by blaming the self-enrichment of his entourage — an apparent reference to the former president's wife and her relatives. "They will have a fair trial," Mr. Ghannouchi said. "And if they are guilty, they will be brought to justice."
On the streets Monday, protesters called for the complete eradication of the old ruling party, while complaining that outlawed parties like the once powerful Islamist groups or the Tunisian Communists — battle-scarred stalwarts of the long dissident fight against Mr. Ben Ali's 23-year-rule — were still barred from participating.
"Nothing has changed," said Mohamed Cherni, 47, a teacher who said he had been tortured by Mr. Ben Ali's police force. "It is still the same regime as before, and so we are going to keep fighting."
But it was not clear exactly who spoke for the street protesters, and the old guard of the opposition struggled to convince protesters that the new government would implant democracy while maintaining basic order and governance. It was not going to be an easy task in a new government in which Mr. Ghannouchi and the newly named ministers of interior, foreign affairs, defense and finance were all members of the ruling party.
Around folding tables in a run-down office a few flights up from the throngs in the streets, Ahmed Najib Chebbi, leader of the largest and most credible legal opposition party, the Progressive Democratic Party, tried to his sell his members on the unity government. Like other opposition leaders, Mr. Chebbi had received a relatively minor post, secretary of regional economic development.
As he urged patience, an angry party veteran wearing a suit and tie shouted Mr. Chebbi down. "The people, who bled and died for us and our children, need to decide!" the man said, accusing Mr. Chebbi of settling too cheaply for a partnership with a prime minister whom he accused of complicity in murder under Mr. Ben Ali.
"How can the murderer be our leader today?" Several around the room cried, while Mr. Chebbi sat solemnly resting his chin in his hand.
Opposition leaders included in the new government said the revolution had collided with reality. After 23 years of Mr. Ben Ali's one-party dictatorship, it was impossible to find qualified officials outside the party who could take the reins of government quickly enough to stabilize the country and hold free elections.
The government, meanwhile, scrambled for credibility. Mr. Ghannouchi declared the end of Tunisia's suffocating propaganda and censorship machine. He pledged to release all political prisoners and to recognize the banned Communist and Islamic parties, as well as hold free, internationally monitored elections within six months.
Separately, in an extraordinary televised plea for calm — in the Ben Ali government, officials never explained themselves — the interior minister offered a public accounting of the death toll so far in the month of protests, including 78 demonstrators dead and nearly 100 wounded, along with unspecified additional police casualties. He said the unrest had cost the Tunisian economy more than $2 billion.
The Tunisian revolution began in the hard-pressed provinces with demands for more jobs, especially for Tunisia's soaring number of young college graduates, nearly a third of whom are estimated to be unemployed or seriously underemployed. It spread to the workers, small business owners and the coastal professional class as a revolt mainly against the flagrant corruption associated with Mr. Ben Ali's family.
But on Monday, the protesters in the streets appeared more working-class, including some hardened, veteran dissenters abused by Mr. Ben Ali's government.
As exiled leaders of the once thriving Islamic political party here raced home, Tunisians debated what to do with the Islamist parties. But the prime minister, Mr. Ghannouchi, suggested in a radio interview that an amnesty law would be needed to void life prison sentences against prominent Islamists before the exiles could return.