Tribunal: Lebanon should avoid Hariri case rumors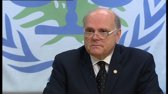 The U.N. tribunal investigating the assassination of a former Lebanese prime minister warned against speculating about the sealed indictment Tuesday as a quiet show of force by Hezbollah rattled nerves amid fears the militant group will react violently if accused.
The Shiite group, which denies any role in Rafik Hariri's 2005 killing, forced the collapse of Lebanon's Western-backed government last week in a dispute over the court.
Many fear the political crisis could lead to street protests and violence that have been the scourge of this tiny Arab country of 4 million people for years, including a devastating 1975-1990 civil war and sectarian battles between Sunnis and Shiites in 2008.
Early Tuesday, Hezbollah supporters wearing black and clutching hand-held radios quietly gathered around Beirut — an innocuous yet threatening display by the country's most powerful armed force. Many parents picked up their children from school as word spread of the gatherings.
Education Minister Hassan Mneimneh said the situation in the capital had "returned to normal" by late morning as the Hezbollah supporters dispersed.
"Tomorrow will be a normal school day," Mneimneh said in a television interview.
The court is widely expected to accuse members of Hezbollah of being involved in Hariri's killing, something the militant group has insisted it will not accept. The Iran- and Syria-sponsored group says the tribunal is a conspiracy by Israel and the United States.
The indictment released Tuesday is the latest turn in a deepening crisis in Lebanon. Last week, ministers from Hezbollah and their allies walked out of the Cabinet when Prime Minister Saad Hariri — the son of the slain leader — refused to renounce the tribunal.
The move brought down the unity government and further polarized the country's rival factions: Hezbollah with its patrons in Syria and Iran on one side, and Hariri's Western-backed bloc on the other, with support by the U.S. and Saudi Arabia.
The U.S. has called Hezbollah's walkout a transparent effort to subvert justice.
Canadian prosecutor Daniel Bellemare said in a video statement Tuesday that the confidential indictment was an important moment for the people of Lebanon, the international community and "for those who believe in international justice."
The contents of the draft indictment may not become public for weeks as Belgian judge Fransen decides whether there is enough evidence for a trial.
Bellemare urged the Lebanese people not to speculate about the contents of the indictment as Fransen may still reject it or demand more evidence.
The court's registrar, Herman von Hebel, said Fransen's review of evidence contained in "thousands of pages" of documents and DVDs submitted with the indictment would likely take at least six to 10 weeks.
"Towards September, October, if things go well we may see the start of a trial with or without an accused," Von Hebel said. The tribunal is unusual among international courts in that it can stage trials in absentia if suspects cannot be arrested.
"We know for sure it is not easy to get accused persons arrested," Von Hebel told reporters at the court.
Like other international courts, the Hariri tribunal has no police force and has to rely on national authorities to carry out arrests. Hezbollah has vowed it would never hand anyone over.
Lengthy negotiations lie ahead between Lebanon's factions as they attempt to build a new government. On Tuesday, Turkey's foreign minister was in Beirut in a coordinated visit with Qatar's prime minister to discuss the political crisis in Lebanon.
According to Lebanon's power-sharing system, the president must be a Christian Maronite, the prime minister a Sunni and the parliament speaker a Shiite. Each faith makes up about a third of Lebanon's population of 4 million.
Hariri, a Sunni, is staying on as a caretaker prime minister as a new government is formed.
In a sign of just how high tensions are running, Wiam Wahhab, a pro-Syrian politician, warned security troops not to use force against demonstrators or they will face the same fate as Tunisia's former President Zine El Abidine Ben Ali, who was deposed last week.
"Security forces should know that wounding or killing any person will make their stations unsafe," Wahhab said in an interview with local television station Al-Jadeed. "Zine El Abidine Ben Ali, with all his security agencies, was not able to protect himself." AP