Qatar PM ,Turkish FM in Lebanon to help resolve the crisis
Qatar's Prime Minister and Minister of Foreign Affairs Sheikh Hamad bin Jassem al-Thani and Turkish Foreign Minister Ahmet Davutoglu arrived in Beirut Tuesday for talks with Lebanon's top leaders to try and resolve the the political crisis in the country.
Both diplomats met already with Lebanese President Michel Suleiman at the Baabda Palace and then headed to Ain el Tinah to meet with Speaker Nabih Berri . They did not make any statements after their meeting.
According to a statement issued by the president's press office, President Suleiman described the talks as useful .
Following their meeting with Berri they met with caretaker PM Saad Hariri .
Berri issued a statement after his meeting with the Qatari and Turkish officials in which he said the Syrian-Saudi role in resolving the Lebanese political crisis is very important.
"There are some complexities, but issues are being discussed," Berri said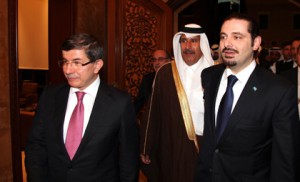 According to a statement issued by Hariri's press office," the PM discussed with his Qatari counterpart and Davutoglu how to implement the results of the Syrian-Qatari-Turkish summit held in Damascus on Monday."
The Qatari and Turkish officials arrived from Damascus where they participated in a meeting on the Lebanon crisis in Damascus on Monday.
Qatari Emir Sheikh Hamad bin Khalifa al-Thani, Syrian President Bashar al-Assad and Turkish Prime Minister Recep Tayyip Erdogan voiced their support for the Saudi-Syrian efforts to resolve the political impasse in Lebanon during their Monday meeting.
Free Patriotic Movement leader MP Michel Aoun , a key Hezbollah ally headed to Phoenicia Hotel to meet with the Qatari PM and Turkish FM according to local reports.
According to local reports the Qatari and Turkish officials will also meet with Hezbollah officials during their trip