The first US ambassador to Syria since 2005 has arrived in Damascus.Robert Ford takes up his post at a time of renewed tensions in neighbouring Lebanon, where the government collapsed last week. He has long diplomatic experience in the Arab world.
Mr Ford's predecessor was withdrawn days after Lebanese PM Rafik Hariri was assassinated in February 2005.
The attack was widely blamed on Syria, which has always denied any connection to the killing.
Syria is viewed by Washington as a "state sponsor of terrorism", but US officials have argued that returning an envoy to Damascus could help persuade Syria to change its policies on issues including Lebanon, Israel and Iraq.
Mr Ford has previously served as ambassador to Algeria and as deputy chief of mission in the US embassy in Baghdad.
His appointment should not be seen as a "reward" for the Syrian government, the US state department spokesman said as he was sworn in on 7 January.
US aims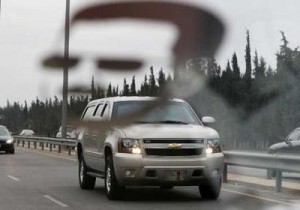 Mr Ford's appointment "shows President Obama wants to work with Syria even if we don't agree on every issue", a US embassy source in Damascus told AFP news agency.
The US government wants Syria to drop its support for Hezbollah, which along with its allies brought down the Lebanese government on Thursday.
The crisis was sparked by a dispute over the UN-backed tribunal investigating Mr Hariri's murder.
Hezbollah – the powerful Shia social, political and militant group – opposes the tribunal.
Rafik Hariri and 22 others were killed in February 2005 when a huge bomb exploded next to his motorcade in Beirut.
Syria was initially blamed for the assassination, and was forced in its wake to withdraw its troops from Lebanon after 29 years. In the past year, however, members of Hezbollah have emerged as prime suspects.
Hezbollah has rejected any suggestion of involvement in the assassination. Its leader, Hassan Nasrallah, has called the tribunal an "Israeli project" and warned of dire consequences if it indicts his followers. BBC