Majority of Jumblatt's MPs to back Hariri as Lebanon PM, report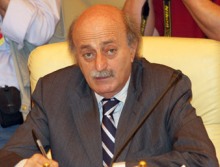 The majority of MPs in the Democratic Gathering bloc will back the nomination of caretaker Prime Minister Saad Hariri to lead the new Lebanon cabinet, MTV reported on Sunday.
The move came as a result of the PM's Saturday meeting with Democratic Gathering bloc leader MP Walid Jumblatt in Downtown Beirut, the report added.
Hariri's "March 14″ coalition won a majority in the 128-seat assembly in a 2009 election, but Jumblatt who was a central figure in the Cedar Revolution has since defected. He claimed initially that he will be a centrist , but during the past few months he has been leaning more towards the Hezbollah led opposition, but…. unlike Hezbollah his 3 ministers did not resign from the cabinet on Wednesday
The parliamentary arithmetic appears now certain that Hariri will be renamed by the president to form and lead the new government. The opposition was counting on a switch by Jumblatt's 11 member parliamentary bloc …. obviously this is not going to happen.
Earlier today Jumblatt said that he will will declare his stance on the parliament consultations ( aimed at nominating a PM designate ) at 3:45 p.m. Monday following his consultation meeting with President Michel Suleiman , An Nahar reported. He later was quoted as saying that his bloc will be united in naming its nominee for PM.
Al-Hayat newspaper in its Sunday edition quoted informed sources as saying that Jumblatt and members of his Democratic Gathering bloc were most likely to name caretaker PM Saad Hariri to head the new cabinet.
Hezbollah chief Sayyed Hassan Nasrallah said today that his coalition has decided against name Hariri as its nominee . The name of Hezbollah nominee will be revealed by Hezbollah parliamentary bloc on Monday , he said