Plane carrying toppled Tunisian president lands in Jeddah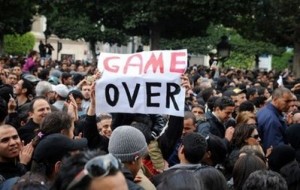 A plane carrying Tunisian President Zine El Abidine Ben Ali, who fled his country after 23 years in power on Friday, landed early Saturday in the Saudi city of Jeddah, the al Jazeera TV channel reported.
Ben Ali left Tunisia on Friday afternoon following massive demonstrations requesting him to step down, despite announcing on Thursday that he would not run for another term in 2014. Later, Tunisian Prime Minister Mohammed Ghannouchi announced on television that he had taken over the interim government until early elections.
Ghannouchi invoked article 56 of the constitution which stipulates that the prime minister ensures interim in case the president is temporarily incapacitated.
"I call on Tunisians of all political persuasions and from all regions to demonstrate patriotism and unity," he said, vowing that he would respect the constitution.
Meanwhile, the government declared a state of emergency on Friday.
Photo: A Tunisian demonstrator holds a placard reading "Game Over" during a rally in front of the country's Interior Ministry in Tunis. Tunisian President Zine El Abidine Ben Ali quit on Friday after 23 years in power and fled the north African state as the authorities declared a state of emergency