Obama calls for free, fair elections, applauds the Tunisian people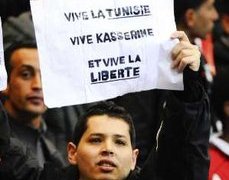 President Barack Obama on Friday condemned violence against Tunisian citizens and called on the government to hold free and fair elections soon.
"I condemn and deplore the use of violence against citizens peacefully voicing their opinion in Tunisia, and I applaud the courage and dignity of the Tunisian people," Obama said in a statement.
"I urge all parties to maintain calm and avoid violence, and call on the Tunisian government to respect human rights, and to hold free and fair elections in the near future that reflect the true will and aspirations of the Tunisian people." Reuters
Photo: An unidentified fan in the audience holds a placard saying "Long live Tunisia, Long live Kasserine and Long live liberty" during the handball World Championship Group A match between France and Tunisia in Kristianstad January 14, 2011.