Sfeir: Punishment is essential to stop assassinations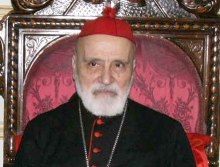 Lebanon's Maronite Patriarch Nasrallah Sfeir was quoted on Friday as saying that he was angered by the government resignation over the imminent indictment by the Special Tribunal for Lebanon ( STL) and insisted that punishment is essential to stop assassinations.
"If those who carried out assassinations in Lebanon were not punished, these assassinations will continue," Sfeir was quoted as saying by Environment Minister Mohammad Rahhal Friday after meeting with the patriarch in Bkirki
"Punishment is essential to stop assassinations and deter the perpetrators," Sfeir added.
Lebanon's president asked Saad Hariri to stay on as caretaker prime minister on Thursday after Hezbollah ministers and their allies resigned in a dispute over an investigation into the killing of Hariri's father. A statement issued by President Michel Suleiman called on the government to "continue in a caretaker capacity until a new government is formed".
Lebanon's government is dissolved when more than one third of its 30 cabinet members resign, and on Wednesday all 10 ministers belonging to the Iranian backed Hezbollah-led opposition announced their resignations. Hours later, they were joined by an eleventh minister representing Lebanese president Michel Suleiman, forcing the collapse of PM Saad Hariri's government.
Saudi and Syrian officials have reportedly been working on a compromise that would resolve tensions in Lebanon over the imminent Special Tribunal for Lebanon (STL) indictment . Reports say that the STL may soon indict Hezbollah members in its investigation of the 2005 assassination of former Lebanese PM Rafik Hariri, father of Saad the current prime minister.
Hezbollah asked MP Michel Aoun to announce on Tuesday the failure of the Saudi-Syrian initiative and to blame March 14 alliance for the failure.
"The Lebanese president will begin consultations with lawmakers at 12:00 p.m. on Monday January 17 to designate a new prime minister", parliament speaker Nabih Berri said after meeting President Michel Suleiman at the Baabda palace .
Former Lebanese premier and current Future Movement parliamentary bloc leader MP Fouad Siniora, told Al Arabiya TV on Wednesday evening : "Based on all available data there is no substitute for Saad Hariri to head the new government."