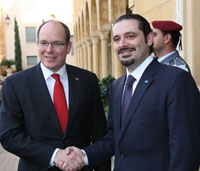 Lebanon Caretaker Prime Minister Saad Hariri arrived in Beirut at 2 p.m. on Friday, returning from a trip that included the US, France and Turkey.
Immediately after his arriving from Ankara , Hariri hosted a lunch at his residence in downtown Beirut in honor of visiting Prince of Monaco Albert II, according to local reports
Hariri held a meeting with his Turkish counterpart in Ankara on Friday morning. Hariri is seeking international support after Hezbollah brought down his government last Wednesday.
Hariri arrived in Ankara late Thursday after having met with President Barack Obama in Washington and President Nicolas Sarkozy in France .