Lebanon PM meets Turkish counterpart in Ankara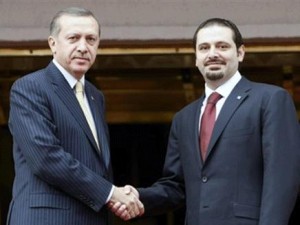 Lebanon's Prime Minister Saad Hariri was in Ankara on Friday for talks expected to focus on the political turmoil in his country, news reports said.
Hariri arrived in Ankara late Thursday to discuss the crisis in Lebanon triggered by the collapse of his government, Anatolia news agency said. On Friday he met with Turkish counterpart Recep Tayyip Erdogan at 08H00 GMT.
Officials with the Turkish prime minister said the two leaders may comment to the media after their meeting although no press conference was scheduled.
In a move led by the Iranian-backed Hezbollah, 11 ministers withdrew from Hariri's hard-won unity government Wednesday, forcing its collapse and plunging the country back into crisis.
The move was linked to a long-running dispute over the U.N.-backed Special Tribunal for Lebanon, which is reportedly set to indict high-ranking Hezbollah operatives in the 2005 assassination of ex-premier Rafiq Hariri, Saad's father.
The resignations came after Saudi Arabia and Syria failed in their bid to find a compromise between the two rival camps.
Hariri to be re-nominated
Hariri will be re-nominated for the post by his Future movement, according to ex-premier Fouad Siniora.
Siniora also added that the Future movement will not consider any alternative candidates after the collapse of Hariris coalition government.
Asked whether forming a government in Lebanon might take as long as in Iraq, Siniora said he "does not think so", adding "it is not an easy situation. Iraqis leaders took nine months to form a coalition government after March elections."
Hariri and his supporters won 71 out of 128 seats in the 2009 elections, with the rest going to Hezbollah and allies including former general Michel Aoun, who heads the assembly's biggest Christian group.
The 11 ministers who withdrew from the government, did so at the exact moment Hariri was in Washington holding talks on the crisis with U.S. President Barack Obama.
NATO member Turkey has sought a stronger role in Middle East affairs since Erdogan's Islamist-rooted party came to power in 2002.
"Contact group'" on Lebanon
France is calling for the creation of an international "contact group" to negotiate a settlement to the latest political crisis in Lebanon, a European diplomat in Beirut said on Friday.
"The contact group would include Syria, Saudi Arabia, France, the United States, Qatar, Turkey and possibly other countries," the diplomat, who spoke on condition of anonymity, told AFP.
"The group would meet outside of Lebanon given the current tensions in the country," the diplomat added.
Hariri arrived in Turkey after talks on Thursday in Paris with French President Nicolas Sarkozy. The idea of making a "contact group" was discussed in Paris on Thursday between Sarkozy and Hariri.