Qatar PM: No new Doha accord for Lebanon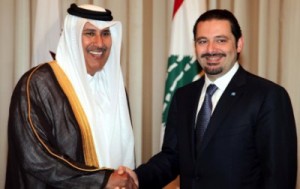 Qatari Prime Minister Hamad bin Jassim bin Jaber Al Thani was quoted as telling LBC TV on Wednesday: "We are not thinking about establishing a second Doha Agreement."
The Doha Agreement was reached by rival Lebanese factions on Wednesday, May 21, 2008 in Doha, Qatar. This Agreement marked the end of an 18-month long political crisis in Lebanon.
After May 2008 battles broke out in Lebanon because of the political crisis, Qatar's ruler Sheikh Hamad bin Khalifa Al Thani invited all Lebanese political parties to its capital Doha to seek an agreement, in order to end the political crisis and avoid an eventual civil war.
According to observers the situation now resembles the one in May 2008 when Hezbollah briefly grabbed control of the western part of Beirut and tried, but failed, to occupy the Druze stronghold of Mt. Lebanon.
Lebanon's government is dissolved when more than one third of its 30 cabinet members resign, and on Wednesday all 10 ministers belonging to the Iranian backed Hezbollah-led opposition announced their resignations. Hours later, they were joined by an eleventh minister representing Lebanese president Michel Suleiman, forcing the collapse of PM Saad Hariri's government.
The cabinet's collapse is over the Special Tribunal for Lebanon (STL) probing the 2005 assassination of former Prime Minister Rafik Hariri. Unconfirmed reports indicate that Hezbollah members will be soon indicted by STL.
Saudi and Syrian officials have reportedly been working on a compromise that would resolve tensions in Lebanon over the imminent Special Tribunal for Lebanon (STL) indictment . Reports say that the STL may soon indict Hezbollah members in its investigation of the 2005 assassination of former Lebanese PM Rafik Hariri, father of Saad the current prime minister.
PM Hariri said during an interview with the Al-Hayat newspaper that was published on Friday that the Saudi-Syrian (S-S) agreement on reducing tension in Lebanon had been finalized a long time ago, even before King Abdullah , traveled to New York for the treatment but blamed Hezbollah and its March 8 allies for not living up to their end of the deal.
Hariri also said : " I will not implement any commitment I made before the other party ( read Hezbollah) implements what it said it would commit to and added 'anything else is an attempt to sabotage the Saudi-Syrian efforts."
" This is the major base of the Syrian-Saudi efforts". Hariri stressed.
Hariri said he decided to break his months-long silence to defend the Saudi-Syrian process against a campaign aimed at distorting it. "I have kept silent for months. Now, I have broken silence just because I am responsible and concerned with protecting this process in the interest of the country and its stability."
Hariri did not reveal the details of the Saudi-Syrian deal, but his political adviser, Mohammad Shatah, said during an interview on Friday that the Saudi-Syrian deal is aimed at achieving stability in Lebanon, by taking specific steps to reduce political tension, such as restoring contacts between Lebanese factions, ensuring that state institutions return to serving the public and following up on the issue of Lebanese-Syrian ties.
Hezbollah asked MP Michel Aoun to announce on Tuesday the failure of the Saudi-Syrian and to blame March 14 alliance for the failure.