Gemayel condemns attack against FPM office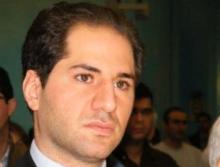 MP Sami Gemayel who represents the Phalange bloc condemned on Thursday the attack against a Free Patriotic Movement office in the Metn village of Beit Chabab.
"We will not allow political arguments to be transformed into actions that harm security," Gemayel stressed.
Gemayel rejected any attempt to harm civil peace in the country, in a statement issued by the MP's press office,
National News Agency (NNA) reported earlier on Thursday that unidentified individuals threw two hand grenades at at the FPM office in Beit Chabab.
No casualties were reported according to NNA.
This development comes after The National Bloc, which is headed by Carlos Eddé issued a statement on Thursday asking if Free Patriotic Movement leader MP Michel Aoun has become Hezbollah's mouthpiece.
"Has Aoun become Hezbollah's spokesperson who defends the party domestically and internationally? And for what cause?"
Tension increased in Lebanon following the collapse of the Lebanese government on Wednesday. Aoun's alliance with Hezbollah has been blamed by March 14 alliance for Lebanon political problems