Obama, Lebanon PM to meet Wednesday at the White House, update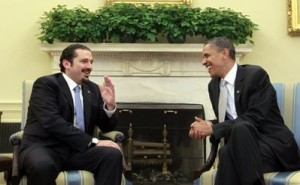 The White House announced that President Barack Obama will meet Wednesday with Lebanese Prime Minister Saad Hariri .
Among the topics they are expected to discuss are political tensions in Lebanon stemming from an international investigation into the 2005 assassination of the former prime minister, Rafik Hariri . He was the current prime minister's father.
Mideast powers Syria and Saudi Arabia recently failed to reach a deal on easing the situation.
A U.N.-backed tribunal investigating the killing is expected to name members of the militant group Hezbollah in coming indictments. Many fear that could re-ignite hostilities between Lebanon's rival Shiite and Sunni Muslims or, in the worst case scenario, cause Lebanon's fragile unity government to collapse.
Obama and Hariri are also expected to discuss other regional issues.
Ultimatum
Hezbollah's Al-Manar television reported on Tuesday that the March 8 coalition had given President Michel Suleiman and Prime Minister Saad Hariri 24 hours to convene a cabinet meeting or it would take action on its own, according to AFP.
A March 8 delegation – including Marada Movement leader MP Suleiman Franjieh, Amal Movement MP Ali Hassan Khalil, Energy Minister Gebran Bassil and Hezbollah chief Sayyed Hassan Nasrallah's aide Hussein Khalil – headed to Baabda Palace Tuesday to meet with the president.
After their Baabda meeting the Hezbollah-led March 8 forces met at Rabiyah to discuss the next move.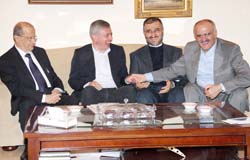 Following their Rabiyah meeting Hezbollah Minister Mohammad Fneish spoke on behalf of the March 8 opposition and told the media and accused the U.S. and the March 14 majority alliance of being behind the failure of the Saudi Syrian effort .
Toppling cabinet
There were reports in Beirut on Tuesday evening that the Hezbollah-led March 8 coalition is set to topple Prime Minister Saad Hariri's national unity Cabinet on Wednesday.
"The opposition ministers have agreed to resign. Their resignation will be announced tomorrow Wednesday " a senior March 8 source told The Daily Star Tuesday night. He said 11 ministers are set to quit, which would automatically lead to the resignation of the Cabinet.
Israel is No.1 beneficiary
On Tuesday PM Hariri called president Michel Suleiman and discussed the latest development. He called for wisdom and patience in tackling the tension in Lebanon and said the only beneficiary from any division in Lebanon will be Israel. He said we should not give the enemies of Lebanon such an opportunity but instead we should revert to dialogue in resolving our differences.
Repeat of May 2008
According to observers the situation now resembles the one in May 2008 when Hezbollah briefly grabbed control of the western part of Beirut and tried, but failed, to occupy the Druze stronghold of Mt. Lebanon.
Startribune, Ya Libnan