Analysis : Lebanon heads for more turmoil after cabinet falls
The collapse of Lebanon's "unity" cabinet on Wednesday deepened a political crisis and exposed the failure of Syria and Saudi Arabia to bridge local rifts over STL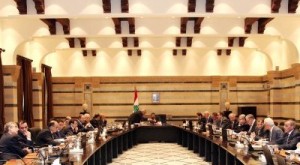 The collapse of Lebanon's "unity" cabinet on Wednesday deepened a political crisis and exposed the failure of Syria and Saudi Arabia to bridge local rifts over a tribunal set up to try the killers of statesman Rafik al-Hariri. Skip related content.
The resignation of 11 ministers from Hezbollah and the armed Shi'ite movement's allies forced the fall of an already crippled government led by the slain leader's son, Saad al-Hariri.
Lebanon could now face a prolonged political impasse and heightened sectarian tension, but analysts said they did not expect any open military confrontation pitting Hezbollah, backed by Syria and Iran, against the Sunni Muslim followers of Hariri, who is supported by Saudi Arabia and the United States.
However, street protests, skirmishes or even a return to the bombings and political killings that followed Rafik al-Hariri's assassination in 2005 cannot be ruled out, the analysts said.
Hezbollah has no military challenger in Lebanon, where other militias disarmed after the 1975-90 civil war. More powerful than the army, it portrays itself as spearheading pan-Islamic resistance to Israel, not as a narrow sectarian group.
That image would be badly tarnished by any proven Hezbollah link to Hariri's 2005 assassination. Hezbollah's leader has said he expects the U.N.-backed tribunal to indict some of his men.
It is unclear exactly who is to blame for the breakdown of Arab mediation efforts, launched when Syrian President Bashar al-Assad and Saudi Arabia's King Abdullah met in Beirut in July — although Hezbollah officials point the finger at Washington.
The fiasco is further evidence of Lebanon's inability to overcome its internal divisions, now centred on the tribunal.
"In truth, the first people to blame are the Lebanese politicians," said Karim Makdisi, who teaches international relations at the American University of Beirut.
"As soon as you…agree that your security fate and your actual physical fate, let alone your economic and social fate, is dependent on outside players whose interests may or may not coincide with your own, that's an utter failure of the political system that we have."
Makdisi said it was clear that the United States did not see a Saudi-Syrian deal over Lebanon as in its own interests, though it was hard to see how this fitted in with the long-stalled confirmation this month of a U.S. ambassador to Damascus.
ON THE ROCKS
"Unfortunately many Lebanese don't understand that Lebanon isn't that important for the U.S.," he added. "They wouldn't think twice about keeping Lebanon on the rocks while they deal with other regional issues that are more important for them."
The United States has strongly backed the tribunal, which is expected to issue draft indictments this month. Hezbollah, which denies any part in Hariri's killing, wants Lebanon to cease all cooperation with the court, which it calls an "Israeli project."
Saudi Arabia and Syria had sought to contain tensions in Lebanon, but never announced what their diplomacy had achieved.
U.S. Secretary of State Hillary Clinton, now visiting Qatar, is seeking an international consensus on support for Lebanon and the tribunal, a senior U.S. official said, adding that she had already talked to Saudi, French and Egyptian officials, and would discuss the issue with Gulf Arab leaders meeting in Doha.
Political scientist Hilal Khashan said Washington had "vetoed" the Saudi-Syrian initiative and there was little prospect of a new government being formed quickly.
He said Hezbollah was unlikely to repeat its brief military takeover of Beirut in May 2008, sparked by government measures it viewed as hostile, but he did not rule out demonstrations.
"The phenomenon of food riots is spreading in the Arab world, so the opposition may shield itself behind popular demands for combating inflation," he said.
Lebanon's economy, particularly banking, real estate and tourism, has been booming despite political turmoil and the paralysis of a cabinet that has only met once in two months and failed to get parliament to pass last year's budget.
Louis Hobeika, economics professor at Notre Dame University, expected the government's fall to have minimal economic impact.
"Already we don't have a government, so if it resigns or stays, it's exactly the same thing," he said.
Hobeika said he did not expect the crisis to turn violent, but that any insecurity would hit investment and tourism.
Lebanon, he added, had become over-reliant on services, with industry and agriculture — more resilient to security shocks — now accounting for only 12.5 percent of Gross Domestic Product.
George Corm, a former finance minister, said Lebanon had lived dangerously for the past five years, but the economy had still thrived without an efficient government at the helm.
"For a few months you have a deterioration of some of the economic and financial indicators, but then things come back as usual," he said, citing the experience of turmoil after Hariri's killing and the 2006 war between Hezbollah and Israel.
The latest crisis shows Lebanon's perennial vulnerability to foreign meddling, with the complicity of rival local factions.
"Lebanon is well-known for being a buffer state between the different political ambitions of regional and international powers," Corm said.