Hezbollah, allies quit Lebanon's cabinet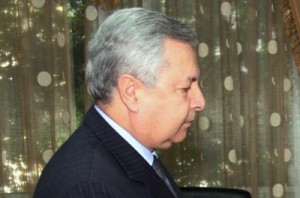 Members of Hezbollah movement and its allies resigned from Lebanon's unity government Wednesday, raising fears of renewed political crisis in the region.
As the Lebanese government faced collapse, Prime Minister Saad Hariri was meeting with President Barack Obama at the White House.
It would take 11 resignations in the 30-member Cabinet to dissolve Hariri's unity government. The opposition bloc, known as the March 8 Alliance, has 10 members. It's not clear whether an 11th member would join with the other 10 to dissolve the government.
Lebanon's government has been at an impasse over the United Nations-backed tribunal's investigation of the assassination of Rafik Hariri, the current premier's father. It is widely expected the tribunal will indict members of Shiite Muslim Hezbollah, which is designated as a terrorist organization by the U.S. State Department.
Hezbollah has blamed Israel for the 2005 bombing that killed Hariri and has pressured the government to denounce the tribunal's probe.
Opposition member Fadi Abboud said the opposition bloc had been calling for a Cabinet session to discuss the tribunal and met Wednesday to discuss what action to take.
Attempts to resolve the dispute have failed so far. Michel Aoun, a Christian member of parliament who heads the Free Patriotic Movement, said a Saudi-Syrian initiative had reached a dead end.
In a statement issued by his office, Hariri said that "despite the developments in the last hours, we will by all means work to keep the doors open for the Lebanese to reach the solutions that ensure stability and calm and preserve national unity."
The failure to break the impasse between Hariri's government and Hezbollah has raised fears of a renewal of the sectarian bloodshed that plagued Lebanon in 2008.
A senior administration official said Wednesday that Obama's meeting with Hariri was designed to show support for the Lebanese government. He said U.S. Secretary of State Hillary Clinton, in Doha, Qatar, for a Middle East forum, will raise the Lebanon issue with her counterparts.
"Hezbollah must be looking at the history of the last couple of years and recognizes the political process according to the constitution is a healthier way to approach things than taking to the streets," the official said. "I hope that is the case."
Rafik Hariri's death stunned the nation and prompted tens of thousands to protest, blaming neighboring Syria for the killing. Syria has always denied the accusations.
At the time of the killing, Syria had immense political influence in Lebanon.
A U.N. Security Council resolution demanded Damascus fully cooperate in the investigation. Eventually, the horrific events and the probe led to a complete withdrawal of Syrian troops from Lebanon after 30 years of military presence. CNN
Update:Minister of State Adnan Sayyed Hussein ( pictured above) , who is the Muslim Shiite minister allocated to president Michel Suleiman announced in a statement his resignation from Cabinet.