UN to help Lebanon protect its gas reserves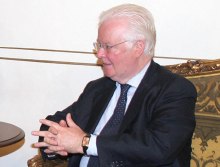 A United Nations official says the international body is willing to assist Lebanon demarcate its naval border with Israel to protect the country's gas reserves.
Michael Williams says Lebanon has every right to benefit from its potential off shore oil and gas resources.
His comments in Beirut Monday followed a request by Lebanon for the U.N. to protect the country's gas reserves along the maritime border with Israel, after a huge gas field was discovered off the coast.
The appeal was part of a growing dispute between the two warring countries over natural resources beneath the eastern Mediterranean.
Lebanon has accused Israel of drilling in fields that extend into its waters, an allegation Israel denies. There is no official naval border separating the two countries. Bloomberg