Union officials: 11 dead in Tunisia rioting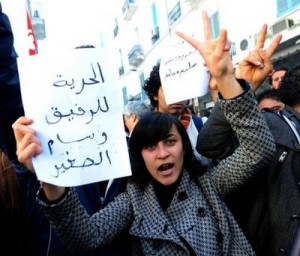 At least 11 people have died in clashes with security forces in new rioting in the North African country where unrest is in its fourth week, local union officials said Sunday.
The Interior Ministry, meanwhile, said eight people were killed over the weekend in the western towns of Thala, and Kasserine.
Rioting to protest joblessness and other social ills has scarred numerous cities across this tiny country since Dec. 17, after a 26-year-old man with a university degree set himself on fire when police confiscated his fruits and vegetables for selling without a permit.
Mobs have since attacked public buildings and the local office of the party of President Zine El Abidine Ben Ali.
Ben Ali has appeared at the bedside of the dying vegetable seller, but has made no statement on the rare shows of defiance on the streets. The man died last week at a hospital outside capital, Tunis.
Union official Belgacem Saihi told The Associated Press that up to five people had died in Thala rioting Saturday night.
In Kasserine, seat of the region where Thala is located, union official Amor Mhamdi said at least three people were shot to death Saturday night as protesters attacked public buildings, the local ruling party office and burned cars.
Kamel Laabidi, a union official in Regueb, said three people were killed there.
Regueb is near Sidi Bouzaid, the central-western town where the 26-year-old self-immolated.
The longtime chief of the opposition Democratic Progressive Party called on the Tunisian leader to urgently "order an immediate cease-fire … to spare the lives of innocent citizens and respect their right to peacefully demonstrate."
Nejib Chebbi claimed that at least 20 people were killed in Thala and Kasserine, citing party representatives in the region.
It was impossible to independently verify the casualty claims made by union officials, or the opposition leader.
In neighboring Algeria, meanwhile, three people died over four days of rioting, the Interior Ministry there said this weekend. Algerian youths took to streets to protest rising prices of staples like sugar and cooking oil. The Algerian government announced Saturday it was slashing taxes on those products by 41 percent. Calm appeared to prevail Sunday.
Photo: A Tunisian demonstrator flashes a victory sign during a solidarity rally with the victims of Sidi Bouzid clashes in Tunis. Tunisia's main union on Saturday condemned authorities for their heavy-handed response to a wave of social unrest, during a gathering in the capital which took place under tight security