Independence referendum begins in Southern Sudan
People in Southern Sudan lined up to vote Sunday in an independence referendum that is likely to create the world's newest nation, about five years after the end of a brutal civil war.
Nearly four million people in Africa's largest country are registered to vote, with balloting running until next Saturday. They're being asked to mark a simple illustrated ballot, showing a single hand and the word "separation," as well as two hands clasped together with the word "unity."
The vote is the result of a peace deal that ended decades of civil war between the mostly Muslim north, and the Christian and animist south. The two sides fought a war that killed two million people from 1983 to 2005.
Among the voters Sunday was the south's president, Salva Kiir, wearing his trademark black cowboy hat.
"This is the historic moment that the people of Southern Sudan have been waiting for," he said after casting his ballot in the southern capital of Juba.
U.S. Senator John Kerry, along with Sudan activist and actor George Clooney, were on hand to watch Kiir vote. Clooney spearheaded the Satellite Sentinel project, a collaboration between Google, the United Nations and several NGOs to track the voting by satellite, to help deter any violence.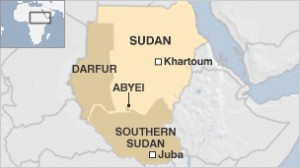 Thousands of Sudanese lined up through the night to be among the first to vote in the weeklong poll and Kiir urged them to be patient.
Other observers include former U.S. president Jimmy Carter, who joined former UN secretary general Kofi Annan as the pair talked to reporters at a polling station in Juba. Carter's organization, the Carter Center, has deployed a large team of observers for the referendum.
Carter, who has been a regular visitor to Sudan for nearly 25 years, said independence for the south was the best way to guarantee peace for all of Sudan after decades of civil war.
Annan said he's confident people who were once enemies will be able to live in peace.
The president of Sudan, who has been indicted for alleged genocide and war crimes in Darfur, has promised to let go of the oil-rich south after his government tried for years to derail the vote now taking place under massive international scrutiny.
His unlikely acceptance of the seemingly inevitable loss comes as the two regions face an interwoven economic future: Most of Sudan's oil is in the south, while the pipelines to the sea run through the north.
Southerners, who mainly define themselves as African, have long resented their region's underdevelopment, accusing the northern Arab-dominated government of taking their oil revenues without investing in the south.
Photo: Former U.S. president Jimmy Carter and former UN secretary general Kofi Annan, right, talk to reporters outside of a referendum polling centre in Juba on Sunday
Read more: http://www.cbc.ca/world/story/2011/01/09/sudan-referendum.html#ixzz1AYhLh1zh