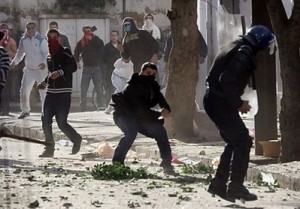 Two demonstrators died in spreading unrest over rising food prices in this North African nation, the interior minister said Saturday.
The deaths were the first reported in the four days of unrest sweeping the cities of Algeria, where a brutal Islamist insurgency raged for decades.
At least 300 police officers and some 100 demonstrators have also been injured since Wednesday when youths began rioting over rising prices of staples like sugar, Interior Minister Dahou Ould Kablia said on national radio.
One protester was shot to death by police Friday as he tried to enter the police station during rioting in Ain Lahdjel, in the M'Sila region, some 350 kilometers (215 miles) southeast of Algiers, the capital, Kablia said. The other died in Bou Ismail, some 40 kilometers (25 miles) west of Algiers, he said, without providing other information.
In an attempt to calm the flaring tempers, Muslim religious leaders called for calm during Friday prayers. One of the leaders, speaking on national radio, said that serenity is one of God's graces, a message that also underscores concern that the violence could play into the hands of Muslim fundamentalists.
Rioting was reported on Friday in Annaba, Oran, Bouira and Bejaia. The website of the daily El Watan showed a photo of a barricade in flames on a main avenue of the city of Tizi Ouzou, capital of the Kabyle region, now one of the redoubts for insurgents linked to al-Qaida in the Islamic Maghreb.
The rising prices of sugar, cooking oil and some other staples feed general discontent in a nation which is a major gas exporter but where housing shortages and poverty are endemic.
Unrest has spread as far as Constantine, in eastern Algeria, where youths faced down police in skirmishes early Saturday.
Constantine, Algeria's third largest city, is on the route to nearby Tunisia where three weeks of unrest are taking a toll on the iron-fisted leadership running the country.
Tunisian police have killed two demonstrators since the start of unrest there, union sources have reported.
Another protester electrocuted himself and the fourth, a 26-year-old man with a university degree, set himself on fire Dec. 17 in the central-western town of Sidi Bouzaid, before dying Tuesday in a hospital outside Tunis. He self-immolated after police confiscated fruits and vegetables he was selling without a permit.
On Friday, witnesses reported five protesters and a police officer were allegedly injured after security forces opened fire on demonstrators in Saida, outside Sidi Bouzaid.
One witness told The Associated Press by phone from a hospital in nearby Regueb where the injured were transferred that two of the five were seriously injured.
Tunisian authorities told the AP that they had no information about the alleged injuries.
Photo: Algerian protesters throw stones at an anti-riot policeman during clashes which erupted in Belcour district of Algiers' city centre on January 7. Three people have been killed and over 800 injured in riots in Algeria linked to rising food costs and unemployment, Sunday's press quoted the interior minister as saying AFP