New US ambassador will be in Syria before end January, report
United States Secretary of State Hillary Clinton swore in Robert Stephen Ford on Friday, the first US ambassador to be posted in Damascus since 2005 and her spokesman Philip Crowley said Ford will be in Damascus "before the end of January."
The US withdrew its ambassador following the 2005 assassination of former Lebanese Prime Minister Rafik Hariri , who was killed in a massive car bomb on Valentine's day  that was widely blamed on Syria, but Damascus has always denied the allegations.
President Barack Obama took the rare step last Wednesday ( while the Senate was in recess) of temporarily appointing U.S. ambassadors to Syria, Turkey and Azerbaijan.
A Senate source who spoke on condition of anonymity told Reuters last week that the recess appointments for the three ambassadors were likely to last for about a year ( until the end of the next session of Congress, which will likely be in December 2011).
Commenting on the recent appointment of a US ambassador to Syria , US ambassador to Lebanon Maura Connelly said last Friday : "President Barack Obama had announced in June of 2009, his intention to restore the U.S. ambassador to Syria. Following the nomination of Robert Ford on February 16, 2010, Obama waited 10 months for the US Senate to take the necessary measures in confirming his nomination .
"The timing of the appointment of Ambassador Ford reflects the need to protect and promote U.S. interests and the security in the region. His appointment should not be understood as a reward to the Syrian government .The appointment however is aimed at improving US ability to communicate with the Syrian government and to highlight our priorities and our concerns, " she added.
She stressed that any step taken with Syria will not be at the expense of Lebanon .
Connelly revealed that "Robert Ford is one of the most capable and skilled U.S. diplomat and his professional record shows it"
Similarly Crowley reiterated that Ford is one of our most qualified US diplomats " and stressed that his appointment should not be viewed as a "reward" for the Syrian government.
"A high-level representative in Damascus will make it possible to deliver strong, consistent messages to the Syrian government and further US interests and security," Crowley said.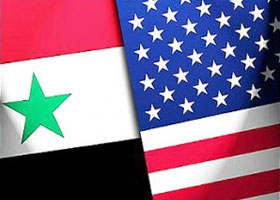 Syria welcomes the appointment
A Syrian diplomatic source, in response to the appointment, told Ahram online last week that Damascus was glad to hear that America will send an ambassador to Syria.
"Such a move will reinforce Washington's credibility in the region and open the door for serious cooperation between the two countries on regional and local issues," the source added.