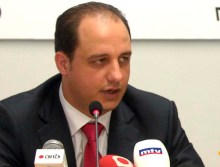 Environment Minister Mohammad Rahhal , who is a member of the Future Movement responded on Saturday to Hezbollah remarks about Hariri's accusations during an interview with Future TV by saying that the Hezbollah led March 8 coalition did not take any of the required steps it was supposed to take regarding a settlement in Lebanon.
Rahhal also said that only the concerned parties were informed of the discussions pertaining to a settlement and dded that he cannot reveal what the required steps of the March 8 coalition are.
Rahhal on Friday defended Prime Minister Saad Hariri's recent statements to the Al-Hayat calling them "the right thing to say' given Lebanon's current circumstances and provides "protection for the Syrian-Saudi settlement to overcome the current crisis."
"All political campaigns that have been launched target this settlement and the Saudi-Syrian initiative," he said
Hariri said during an interview with the Al-Hayat newspaper that was published on Friday that the Saudi-Syrian (S-S) agreement on reducing tension in Lebanon had been finalized a long time ago, even before Saudi Arabian King Abdullah , traveled to New York for the surgery but blamed Hezbollah and its March 8 allies for not living up to their end of the deal.
Hariri also said : " I will not implement any commitment I made before the other party ( read Hezbollah) implements what it said it would commit to and added 'anything else is an attempt to sabotage the Saudi-Syrian efforts."
But Hezbollah deputy leader Sheikh Naim Qassem told As Safir newspaper in remarks published Saturday in response to accusations by Prime Minister Saad Hariri : "He knows what to do and the ball is in his court."
Qassem said Hezbollah played its role fully and the responsibility now lies on the other party to guarantee the success of the Saudi and Syrian mediation to solve the Lebanese crisis.
Saudi and Syrian officials have reportedly been working on a compromise that would resolve tensions in Lebanon over the imminent STL indictment . Reports say that the STL may soon indict Hezbollah members in its investigation of the 2005 assassination of former Lebanese PM Rafik Hariri, father of Saad the current prime minister.