Lebanon crisis will be raised during Obama-Sarkozy summit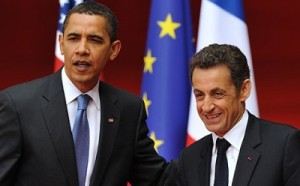 U.S. President Barack Obama and his French counterpart Nicolas Sarkozy have many things to discuss but the Lebanese crisis is reportedly one of the key items that will come up during their talks in Washington on January 10, according to local media reports.
The repercussions of the Special Tribunal for Lebanon (STL) , might be one of the key topics raised at this summit. According to reports , the White House is unsatisfied with President Sarkozy's policy of receiving Lebanese opposition leaders, such as Free Patriotic Movement leader General Michel Aoun, a key ally of Hezbollah .
The Elysee on the other hand has declared its disappointment with America's failure to push forward peace talks between the Palestinians and the Israelis. Sarkozy has said several times that all of the foundations of peace between the Palestinians and the Israelis are well-known, but that the problem lies in the current approach. The French president wants to convene a wide-scale conference in which leading great powers will take part, and follow up the peace process on a constant basis, by pressuring the concerned sides.
France is reportedly very concerned about the security situation in Lebanon following the announcement of the indictment that will be issued by the Special Tribunal for Lebanon, but French sources have warned that " any security shake-up would be useless politically and would lead to dangerous consequences for those who stirred it."
The French sources believed that Syria and Saudi Arabia should guarantee the security situation in Lebanon in cooperation with Paris.
Both France and the US are strong supporters of the STL…
French Foreign Minister Michele Alliot-Marie said last week that the international tribunal cannot be toppled and any agreement cannot come at the expense of the indictment.
Similarly US Secretary of State Hillary Clinton voiced support for a U.N.-backed tribunal probing the killing of former Lebanese Prime Minister Rafik al-Hariri when she met his son Saad , Lebanon's current premier, on Friday.