WikiLeaks: Israelis bribed to admit U.S. goods to Gaza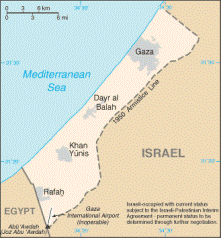 U.S. distributors accused Israel in 2006 of charging exorbitant fees to allow their goods into Gaza and an Israeli general admitted corruption existed at a major border crossing, a U.S. diplomatic cable shows.
The cable, obtained by WikiLeaks and published Thursday by the Norwegian newspaper Aftenposten, said frequent closures of the Karni crossing had "exacerbated the problem of access and appears to have forced up the cost of bribes" paid to Israelis.
The disclosures predate the 2007 armed takeover of the Gaza Strip, home to 1.5 million Palestinians, by Hamas Islamists hostile to the Jewish state. Israel has cited the Hamas threat in justifying a controversial blockade it has kept on Gaza, with Egyptian help.
"As of late May 34 shipments of American goods, amounting to nearly USD 1.9 million dollars, have been waiting three to four months to cross into Gaza," said the cable, classified "secret" by the U.S. ambassador to Israel at the time, Richard Jones.
"U.S. distributors assert they are being asked to pay 'special fees' which amount to as much as 75 times the standard processing fee as quoted by GOI (Israeli government) officials."
The cable quoted distributors for several U.S. companies complaining that payoffs were required to move their trucks to "a spot near the head of the so-called 'Israeli line'," which progressed more quicker to help Israelis supplying Palestinians.
"According to business contacts, allegations of corruption at Karni have a long history," the cable said.
It said Yossef Mishlev, the general in charge of Israel's Palestinian liaison unit at the time, had "acknowledged the problem (and that) corruption was the root cause of backlogged shipments waiting to cross into Gaza at Karni."
The liaison unit declined comment on the cable. The Israel Airports Authority, which the cable cited as having overall responsibility for Karni, denied wrongdoing.
"There was an investigation at the time, and no accusations were levelled against any Authority officials. This problem may have been connected to the truck drivers at Karni," an Authority official told Reuters on condition of anonymity.
The crossing is now under Israeli military control due to enhanced risk of Palestinian attack on it, the official said.
The U.S. diplomatic cable describes Karni staff being confronted by the bribery allegations during a May 26, 2006 meeting attended by embassy officials.
The Karni staff "did not address the issue of bribes," according to the cable, but suggested the U.S. government finance the purchase of more conveyor belts for their terminal or arrange for distributors to ship through Kerem Shalom, a crossing on the southern Israel-Gaza border that abuts Egypt.
Reuters