Happy Birthday Gibran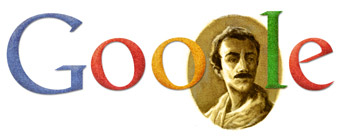 Today marks the birthday of Gibran Khalil Gibran also known as Kahlil Gibran the famous Lebanese American artist , poet and writer.
Google has remembered Gibran in their doodle today.
Born in 1883 in the northern village of Bcharre, Lebanon and died on April 10, 1931, in New York.
The doodle is Google's first doodle for 2011 after its traditional new year doodle that was up January the 1st .
Gibran is best known for his 1923 book The Prophet, a series of philosophical essays written in English prose. An early example of Inspirational fiction, the book became extremely popular in the 1960s .
Gibran is the third best-selling poet of all time, behind Shakespeare and Lao-Tzu.
Ask not
"Ask not what your country can do for you. Ask what you can do for your country".
Ask any American school kid who uttered these noble words and the reply will be : John F. Kennedy at his inaugural speech on January 20, 1961
But what most Americans do not know is that half a century before Kennedy rose to fame, this phrase was actually penned in an article entitled "The New Frontier" by Gibran Khalil Gibran. He used these impressive words while addressing his countrymen, urging them to revolt against the Turkish occupation of Lebanon.
"Today Lebanon needs Gibran more than ever before," a Bcharre resident told Ya Libnan and added: "Thanks Google"