Minister Harb defends his ' Real estate' bill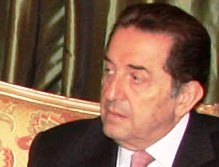 Lebanon Labor Minister Butros Harb defended on Wednesday his draft bill that calls for banning the sale of land between various Lebanese sects for 15 years.
During an interview with LBC TV Harb defended the constitutionality of his bill. He said the purchase of of some large tracts of land raised a lot of suspicion and this could lead to demographic changes …emptying some Christian areas and replacing them with another sect ( read Shiites) . Harb said this is "sectarian abuse" which is forbidden under the constitution, stressing that the constitution "stresses coexistence" .
Hezbollah is trying to change the face of Lebanon according to March 14 sources . The sources told Al Anbaa last Sunday that the sale of land by Christians to Hezbollah is a well organized affair.
Harb said last Sunday : "Those who oppose the bill without providing an alternative have a hand in the displacement of Christians," in a possible reference to MP Walid Jumblatt who described the bill as" insane" .
March 14 source of Christian leadership also told al Anbaa that" Christians are obsessed with the Hezbollah project and for this reason this issue can not be dealt with lightly whether in positive or negative manner but at the same time we should guard against any Christian Muslim division."
Harb came under attack yesterday by FPM leader MP Michel Aoun, a Christian leader who is allied with Hezbollah and Syria.
Another FPM official attacked Harb's bill today . MP Hikmet Deeb called Harb's draft bill unconstitutional adding" Harb is the first one to know that his bill will never see the light"