Hariri , Waleed Bin talal met in Saudi Arabia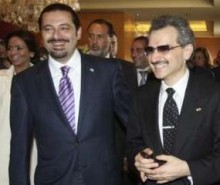 Lebanese Prime Minister Saad Hariri met with Prince Waleed Bin Talal at his office in Saudi Arabia on Wednesday, according to a statement by Hariri's press office.
Hariri was accompanied by his adviser Hani Hammoud, the statement said.
The statement added that Hariri discussed with the Saudi prince the latest developments.
The statement also said that Hariri thanked the prince for his support to Lebanon .. . specially in the fields of investments and charitable contributions
Both men held a short meeting on the sidelines of the opening of the Four Seasons Hotel in Beirut ion June 9 last year and agreed at the time to meet again soon.
The rivalry between the late Saudi King Fahd and the Crown Prince and now King Abdullah had its impact on Lebanese internal politics. Former PM Rafik Hariri ( Saad's father) was Fahd's man in Lebanon while Prince Waleed bin Talal, (whose mother, Princess Muna al-Solh, was the daughter of Lebanon 's first prime minister, Riyadh al-Solh), was Abdullah's choice. Abdullah, according to reports , preferred to see his nephew Waleed bin Talal serve in Lebanon.