Israeli maneuvers anger Lebanon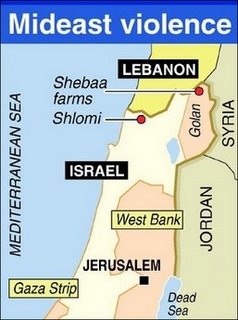 The Israeli military fired shots into the Shebaa Farms region of Lebanon as part of military drills near the shared border, the government in Beirut complained.
Lebanon's National News Agency said Israel fired into Lebanese territory for several hours before wrapping up operations. Israeli drones were reported over Lebanese airspace earlier this week.
Israeli media reports suggested the military was carrying out drills near the northern border with Lebanon in preparation for a "worst-case scenario" with Lebanese militants loyal to Hezbollah.
Hezbollah and Israel went to war in 2006. A U.N.-brokered cease-fire agreement calls on Lebanese militants to stand down while reminding Israel to respect Lebanon's sovereignty.
Israel was accused of entering Lebanese territory illegally after an Aug. 3 gun battle that left four people, including an Israeli lieutenant colonel, dead. U.N. peacekeepers said Israel acted under the rule of law in the incident.
The Israeli overflights come as Beirut braces for imminent indictments from the Special Tribunal for Lebanon, which is investigating the 2005 assassination of former Lebanese Prime Minister Rafik Hariri.
Hezbollah said the STL is part of a broad Israeli conspiracy, thought the Shiite organization is widely expected to be indicted by the U.N.-backed tribunal. UPI