5 Israeli naval ships tracking Asian aid ship'Salam'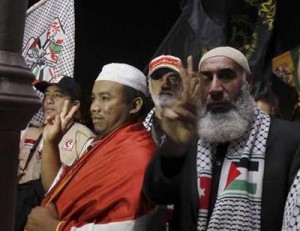 Five Israeli naval vessels are tailing the ship carrying humanitarian supplies from Asia to the besieged residents of Gaza.
Speaking via satellite phone, Shaheen Moidunny, who is on board the ship Salam, told The Hindu that Israeli ships had been tracking the movements of their vessel for the last six hours. Radio contact had been established with the Israeli navy. "We are only one hour away from the Egyptian port of Al-Arish, where the ship would be docked," Mr. Moidunny said. He clarified that there were no plans to take the ship to Gaza. "All the humanitarian supplies would be taken overland from Al-Arish to the Rafa crossing on the Egyptian Gaza border," he said.
Mr. Moidunny said only eight persons were on board the aid ship, while the rest of the activists, from several Asian countries had been flown into Egypt from Syria.
According to the Egyptian website Ahram Online, the "Asia to Gaza Solidarity Caravan" had remained stuck for nearly a week at the Syrian port of Latakia, before Egyptian authorities granted it permission to enter Al-Arish port. Activists from more than 15 countries, the majority of whom are Indians ,but also include nationals from Iran, Japan, Indonesia, Pakistan, Malaysia, New Zealand and Kuwait are participating in this initiative
The convoy, which set off from New Delhi on December 2, was scheduled to reach Gaza by December 27, a day ahead of the second anniversary of Israel's 22-day war on Gaza.
Earlier, Egypt's Al-Ahram newspaper quoted Palestinian sources as saying that the Egyptian embassy in Damascus had issued visas to 120 activists, but had denied entry to another 46 hailing from Jordan and Iran. Some of the aid material, including 10 generators donated by Iran, were not allowed on the ship, and the size of the cargo was kept below 300 tonnes. The Hindu