Salameh not worried about monetary stability in Lebanon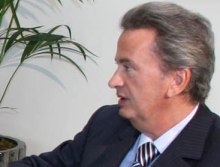 The Governor of Central Bank of Lebanon Riad Salameh told As safir newspaper that there is no concern in 2011 about monetary stability in Lebanon which he described as balance without the intervention of the central Bank
Salameh said he expects the economic growth will be about 7.5 percent
He also said inflation in 2010 is expected to be between 4 to 5 percent.
Last week the Central Bank has revealed that Lebanese banks attracted the largest share in bank deposits in the Middle East in 2010…over 30 percent of total deposits.
Salameh, who was named as the best Central Bank governor by the prestigious Euromoney magazine in 1996, is credited with stabilizing the Lebanese pound, reducing inflation, boosting foreign currency reserves and passing many important directives that allowed the Central Bank to weather all financial crises.