Grenade attack injures 2 bodyguards of Karami's son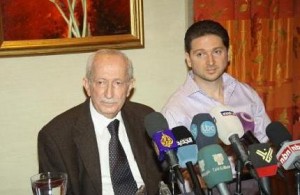 Unknown assailants tossed a grenade at at 1:00 am Sunday at the house of Faisal Omar Karami, (son of the former PM Omar Karami ) in the northern port city of Tripoli, National News Agency reported.
A security source told Voice of Lebanon that occupants of a speeding vehicle tossed the grenade at  Karami's vehicle, which was parked near his home.
The director of the Islamic Charitable Hospital, where bodyguards Salah Issa and Mohammad Habib are being treated, described their condition as "stable," noting that they suffered wounds to their hands and legs.
Former Prime Minister Omar Karami said on Sunday that the incident has very dangerous security dimensions.
"Security forces did not act until this morning although the incident happened on [Saturday] night," Karami said in a press conference, adding that some security officials he spoke to understood how dangerous the situation was.
The investigation of the grenade attack is underway, National News Agency (NNA) reported on Sunday.
Relevant security forces are analyzing the data obtained from the surveillance cameras at the outskirts of Karami's residence when the attack took place, NNA said.
Prime Minister Saad Hariri called the former Prime and condemned the dropping of the hand grenade according to a statement issued by the PM's press office.
A delegation from the Future Movement, headed by the party's secretary general, Ahmad Hariri, visited the Tripoli residence of Faisal Karami National News Agency (NNA) reported
According to (NNA), Hariri and the delegation held a meeting at Karami's residence.
"We came to check on Faisal Karami," Hariri said.
Former Lebanese Prime Minister and Lebanon First bloc leader MP Fouad Siniora called former Prime Minister Karami on Sunday to check on his son Faisal , condemned the attack and voiced the importance of knowing who stands behind it.
Commenting on the incident , Faisal Karami said dropping a hand grenade on his house in Tripoli is a political message.
Karami refused to accuse anyone of being behind this incident, and added that it is the security forces' job to do so, Free Lebanon radio station reported.
Hezbollah also issued a statement condemning the grenade attack adding that it aimed at inciting strife in the country.
"The cowardly attempt comes under the pretext of destabilizing the situation and targeting figures that stood against conspiracies," the statement said.