Ashkenazi to focus on peace with Syria after retirement, report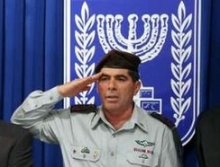 According to a report by the Israeli Haaretz newspaper , Lt. Gen. Gabi Ashkenazi will end his career in the Israel Defense Forces this February and go charging after the next objective: peace with Syria.
Haartez reported that in " his four years as chief of the general staff, Ashkenazi gave few interviews and carefully refrained from making any controversial statements. These constraints will be removed once he is out of the military."
Ashkenazi according to Haaretz has dual motivations – national and personal.
On the national level, he wants to rescue Israel from the diplomatic status quo and prevent a dangerous war with Iran. A peace agreement with Syrian President Bashar Assad, which would remove Syria from the Iranian circle of influence and weaken Hezbollah, seems to the retiring IDF chief to be the most effective way to improve Israel's strategic situation. Ashkenazi fears for the country's future should Prime Minister Benjamin Netanyahu continue his policy of marching in place; it reminds him of Golda Meir's complacency before the 1973 Yom Kippur War.
On a personal level, Ashkenazi was hurt by the manner in which his term has been brought to a close. He believed, and probably still believes, that the document allegedly fabricated by his friend Lt. Col. (res. ) Boaz Harpaz described reality faithfully; that Defense Minister Ehud Barak and his aides laid a media and political ambush for him, to get Maj. Gen. Yoav Galant appointed in his place. First they depicted Ashkenazi as a power-hungry chief of staff who wanted his tenure extended for a fifth year, and then as an insubordinate.
From Ashkenazi's standpoint, Netanyahu supported the pranks of the defense minister and his court. Upon his release from military service, it will be time for a reckoning. Ashkenazi will portray Netanyahu and Barak as a pair of irresponsible adventurers, who could very well lead the country to disaster. The combination of a diplomatic stalemate and a willingness to take military risks, which characterizes both the prime minister and defense minister, has the chief of staff very concerned.
With the imminent retirement of both Ashkenazi and the like-minded Mossad chief Meir Dagan, the restraints keeping the political echelon in check will be gone. Under such circumstances, particularly when the country is entering a campaign season, the dangers of entanglement increase.
Ring of threats
Ashkenazi is troubled by the ring of threats facing Israel and the growing strength of Iran and its allies – Syria, Hezbollah and Hamas. He shares the assessments of the outgoing head of Military Intelligence, Amos Yadlin, that the next war will be waged in Tel Aviv and that the homefront will be hit by thousands of missiles and rockets. But the solution, in Ashkenazi's opinion, is not an attack on the nuclear facilities in Natanz and Bushehr, but rather a diplomatic initiative for a peace agreement with Syria.
The price of this deal is known: withdrawal from the Golan Heights in return for security arrangements and normalized relations. For Israel, this is a price worth paying in order to break the "Iranian axis" and bring Syria closer to the West. Even if Syria does not undertake to distance itself from Iran, it would alter its behavior following a peace treaty with Israel. A pro-American Syria would not supply arms to Hezbollah, nor would it sponsor the Palestinian rejectionist groups. Instead of bolstering Irans influence, it would join the moderate camp. The outcome would be wider security margins for Israel.
The rules that stipulate a three-year cooling-off period for retiring generals before they can enter politics prevent Ashkenazi from running in the next elections, but they do not restrict his public activity. Raising the banner of peace with Syria would give him an edge over other candidates looking to lead the country.
There is barely any discussion in Israel today on the issue of the Golan Heights. Netanyahu is oblivious to Assad's tentative peace overtures, and is focused on a diplomatic battle to block the Palestinians and their patron, U.S. President Barack Obama. The defense minister has mumbled something about reviving the Syrian track, but did not fight for his position and instead conformed to that held by Netanyahu.
The Israel-Syria Peace Society, which was founded by former Foreign Ministry director-general Alon Liel, maintains a low public profile and is in desparate need of a well-known and popular leader. The retired major general Uri Saguy, known as "Mr. Syria," who has been preaching for an agreement with Damascus' rulers for the past two decades, largely operates behind the scenes. One may conjecture that Ashkenazi is attentive to the opinions held by Saguy, his ex-commander in the Golani Brigade.
The call for peace with Syria will give Ashkenazi a public "niche" that has no rivals, and make it easier for him to build his political brand. Everyone will know what Ashkenazi stands for and where he is heading, while his opponents – first and foremost Barak and Netanyahu – present vague positions shrouded in double meanings. The ban on running in the next elections will work in Ashkenazi's favor: He will be freed from the constraints of the primary elections and of the need to kowtow to wheeler-dealers and activists, and come across as a national and statesmanlike figure who operates outside of and above the partisan fray.
Even if Ashkenazi pushed for strategic moderation in closed-door sessions, the public sees him as the ultimate military man, who rehabilitated the IDF after its dreadful performance in the Second Lebanon War and led it to victory over Hamas in Operation Cast Lead, almost without incurring any losses. Obviously if he calls for a withdrawal from the Golan he will be attacked from the right for being conciliatory, and the image he has enjoyed until now will suffer in part. Still, the Golan lobby, headed by Effi Eitam, will not be able to paint Ashkenazi as the new Yossi Beilin; his military record will set him apart from previous peace movement leaders.
Status quo over concessions
There is another advantage to the Syrian track: It does not address any fundamental questions related to national identity – Jerusalem, the Jewish state, Palestinian refugees' "right of return." At issue is agreement on a border and new security arrangements with a known and stable government, which for decades has proved its meticulousness in adhering to the separation of forces agreement on the Golan Heights.
Attempts to reach an Israeli-Syrian peace have failed until now because both countries preferred the tense status quo in relations over the option of mutual concessions. Israel did not want to withdraw to Lake Kinneret; Syria did not agree to recognize Israel publicly. But now, with both sides fearing instability, all that could change. Israel is afraid of Iran, which is developing nuclear weapons and has deployed missile and rocket systems in Lebanon and the Gaza Strip. Syria is worried about Iranian influence in Lebanon growing even stronger.
On the domestic front, Ashkenazi is heading into civilian life with Netanyahu and his government sliding down the slippery slope to the next elections. A "peace with Syria" campaign on Ashkenazi's part would merely underscore the prime minister's attachment to the status quo and his rejection of every initiative and diplomatic move. The more frequently Netanyahu is kicked around by his coalition partners – Barak, Shas and Foreign Minister Avigdor Lieberman – the more supporters there will be for the fresh message of the discharged IDF chief, who will present a way out of the deadlock.
Historically, the successful revolutionaries in Israeli politics have come from positions of inferiority. Menachem Begin was the eternal electoral loser. Rabbi Ovadia Yosef was booted off the Chief Rabbinate throne. Ariel Sharon was ousted from the Defense Ministry. Begin made peace with Egypt and built 100 settlements in the West Bank. Yosef founded the Shas Party. Sharon reconquered the West Bank and evacuated Gush Katif.
Ashkenazi is exiting the office of the IDF chief of staff an embittered man. Like Begin, Yosef and Sharon, he too will want to defeat his rivals and prove that he was right and they were wrong. Like them, Ashkenazi is also accompanied by a successful campaign manager, IDF spokesman Avi Benayahu, and a band of loyalists. The call for peace with Syria will be his ladder to the top of the public arena.