Israeli Minister: We should seek peace with Lebanon, Syria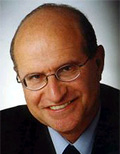 Israeli Minister of Minorities Avishay Braverman told Kuwaiti newspaper Al-Rai during an interview that will be published on Tuesday that Israel should seek peace with Lebanon and Syria .
Braverman said "the greatest danger is represented by Iran , noting that Iran has many allies in the region that are trying to destabilize the area", in a possible reference to Hezbollah and Hamas .
Asked if he expects another war with Hezbollah in Lebanon he said : When people fail ( Arabs and Jews) in reaching solutions they revert to war.