OTV received threating calls, report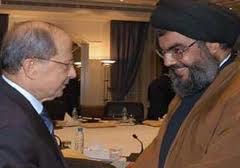 OTV channel announced that it had received an anonymous call from a person with Egyptian accent , who claims to belong to a fundamentalist organization , accusing the leader of Change and Reform bloc MP Michel Aoun of persecuting the Sunni Muslims . He threatened that his group would kill General Aoun, Gebran Bassil and the Change and Reform bloc MPs one after the other.
He accused General Aoun of being a puppet of the Syrian intelligence and taking orders from Hezbollah leader Sayyed Hassan Nasrallah.